11/24/2015
I don't trust "big business", usually - and I don't "advertize" other people's stuff, usually - but this one is different. Having a smart phone with a data plan in the USA is expensive, comes with unfair pricing, non-existent customer service, and outrageous roaming charges - usually.
Until you discover Google's Project Fi. Unlimited calls and text in the US for $20 a month, plus $10 per GB of data, plus tax & fees. No roaming charges, incoming calls are free worldwide, and (here's my favorite part) you get a credit (real money back, not some hogwash "roll-over") for unused data on your next month's bill. The price for data is the same $10 per GB worldwide, and should you use more data than anticipated, there are no extra "overage" charges.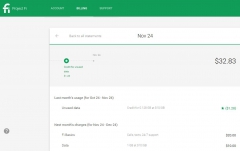 Sounds good, but where's the catch? Two little caveats, maybe:
currently you still have to "apply" for an invitation and then wait for about six weeks before they'll let you sign up.
Also, there are still only three phones that will work with Fi - Nexus 5X, Nexus 6, and Nexus 6P.
I can live with that!
11/03/2015
As a software developer I've had to make that decision many times - is it better to simply make what you need, or should you look to buy existing solutions? I personally like the feeling of power that I get from being self-sufficient, so I tend to lean towards "make your own". From the business perspective, though, I agree that re-inventing the wheel is a waste of resources.
If you decide that buying is in your best financial interest, your search for solutions may not render the desired results - which is when you should be prepared to make what solves your problem, and take pride in your own creativity.
That's why I invented the


I tried to find a pouch for my new "big" smart-phone that would meet all my requirements:
is made out of genuine leather
has a belt-clip
doesn't come off when I bend over
doesn't bruise my thigh when I sit down
won't make me look fat
fits my Nexus 5X with a shock-proof case on it
comes in whatever colour I want
isn't made in China
After hours of futile search in stores and online I had to resort to my own inventive talent. A local leather craft store came in handy with materials, tools, and great advice.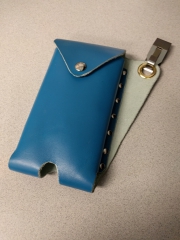 It took some prototyping, improving my design pattern and manufacturing technique, trying different variations, until the final product was ready to go public. I've made five of those by now, two for myself and three for family.
You can order yours here:
Get Your ExxoPok
10/31/2015
Between 6:00 p.m. and 8:00 p.m. on Halloween lots of people in costumes, mostly younger children with their parents, tour our neighborhood to ask for candy.
They speak the magic formula "trick or treat", and I offer the bowl with candy saying "take one, whatever you like". Their answer is supposed to be "thank you", then we wish each other "Happy Halloween"; after that they walk to the next house. Business as usual.
This time, however, one approximately seven-year-old girl, dressed up as a purple princess, came with a group of kids and replied to my "take one, whatever you like" with a frown and a "what, only one??". I was slightly amused, so I said "well, then what is the trick you are now going to play on me?"
The look of utter confusion on that little face was priceless!
10/20/2015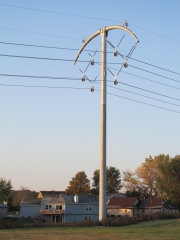 Lately I have been driving by some impressive new structures in town. AEP is replacing many older transmission line pylons with these new ones.
They have a smaller footprint on the ground and are (hopefully) less susceptible to storm damage. One question remains, though: why do they still have to be up in the air?
Underground HVDC transmission lines have been around for some time and seem to have advantages. Maybe that's why Bavaria recently passed a law mandating underground installation for all new transmission lines.
09/06/2015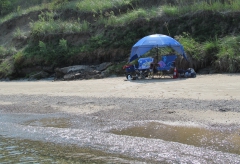 This year, for the first time in decades, Indiana Tech gave us Labor Day off! This was the perfect opportunity to load up the van with beach gear and dog, and head to Portage where we stayed at a hotel for two nights. Yesterday we shopped the Lighthouse Place outlet mall in Michigan City, today we relaxed at Central Beach on the shores of Lake Michigan.
The wet and rather cold June had prevented people from using the beach, so nature had had a chance to clean up. The lake was crystal clear, we had the beach mostly to ourselves. Armani went in the water a lot more than he did in previous years. We even let him off the leash for a bit to wander about on his own.