09/10/2016
A few weeks ago I was contacted by EXPAT.com - a website that I signed up for in 2009, and hadn't done anything worth mentioning on - asking if I would be willing to answer a few questions about "life in the colonies". Nice.
So I answered some questions, which were sent via email, and I attached photos to illustrate the article. Today the journalist let me know that my interview had been published here:
I like the fact that they didn't shorten, alter, or correct anything I wrote. If you are interested in reading more stories like mine, or maybe even tell your own, you may want to sign up.
06/09/2016
Because it was rather frustrating for me, and my search on the web only turned up other people's frustration, I dedicated a few hours of my time to play around with it. It is actually ridiculously easy to make Blogspirit accept code just like you enter it – without making any changes to it.
Here's how this works:
After you log in, click on the "Publications" tab, then select "All Posts"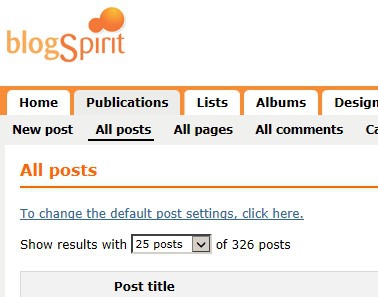 There is a link right there, "to change the default post settings, click here".
Go ahead and click that.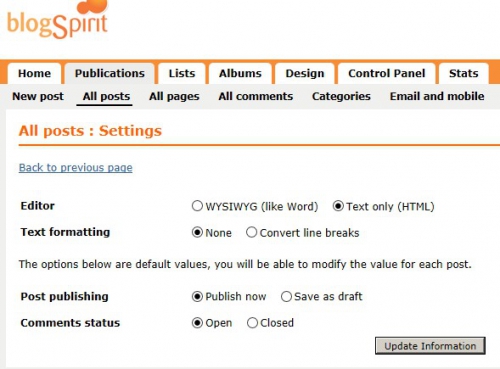 For "Editor" select "Text only". That will pop open the Text formatting option. Select "none" for that. Don't forget to click "Update Information" to save the settings.
You can always go back to the WYSIWYG editor later, after you're done with that one post in pure html.
05/26/2016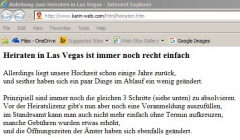 Today I wanted to put a link to my Etsy shop on the main page of my little old website, built with a text-editor in 2001, left untouched since 2006. While I was already logged in to my cPanel on the hosting page, I checked my website statistics and found the most visited page.
I have an average of about 20 visitors a day, every day, who came to this one page after searching on Google for "heiraten in Las Vegas". Google takes them to this location, buried deep in my slightly unstructured website, where I simply describe, in minimally formatted text, how ridiculously easy it was to get married in Las Vegas in 2004. This one page is the only one on my website that I wrote in German, everything else is in English.
For some reason Google considers this piece of plain text, mostly outdated, information highly relevant to the subject - and I didn't even know about SEO back then, nor did I care how many visitors I have on my page.
Go figure!?
12/05/2015
Fedex delivered a small package today from Google. Lego bricks, a USB cable, and instructions how to build either a "phone stand" or a "cable tidy" out of the Legos.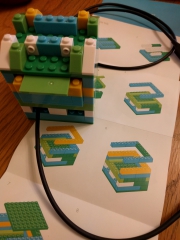 That really was a nice surprise! Verizon never did anything like that to maybe show that they value their customers.
I built the cable box out of my legos, adding the leftover parts onto the top for decoration.
06/07/2015
I have been active on the internet since 1998, doing things that seemed crazy geeky at the time.
Like video-chatting with people on the other side of the globe. I used Netmeeting on Microsoft's IRL servers. My Skype account was created as soon as they released their first public beta version, some time in late 2003. Being an early adopter can have advantages! For Skype this means my profile is somehow frozen in time.
It can't be changed. It can't be edited. It doesn't get flooded with junk contact requests from scammers, spammers, bots and crooks. A few years ago, when I moved to the US, I thought I should maybe update my personal details - but it never worked.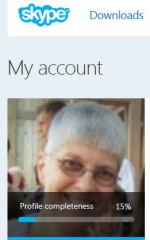 The only things that I can change are the profile picture, and the password. Everything else doesn't seem to get saved.
No first name, no last name, no gender, no birthdate, no address, no language; whatever minimal information I entered back in 2003 is going to be all there is for the rest of my life. Skype thinks I live in Germany and I pay in Euros.
I was crazy enough to try getting that "fixed" and emailed back and forth for a while with their customer support. That was really funny! They had absolutely no clue. I had a feeling they didn't even understand, what my "problem" was.
Now I am happy about the fact, that I can "hide" my identity - at least with Skype - and be 85% unknown. It's a bit of a privilege, like my Yahoo! email account, registered in 1999, without a phone number.