09/06/2015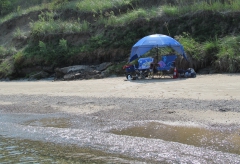 This year, for the first time in decades, Indiana Tech gave us Labor Day off! This was the perfect opportunity to load up the van with beach gear and dog, and head to Portage where we stayed at a hotel for two nights. Yesterday we shopped the Lighthouse Place outlet mall in Michigan City, today we relaxed at Central Beach on the shores of Lake Michigan.
The wet and rather cold June had prevented people from using the beach, so nature had had a chance to clean up. The lake was crystal clear, we had the beach mostly to ourselves. Armani went in the water a lot more than he did in previous years. We even let him off the leash for a bit to wander about on his own.
03/01/2015
In September 2009 I bought this cute little Samsung N140 10" netbook to facilitate my academic endeavors. It featured Windows XP and a German keyboard. Last year, when Microsoft stopped supporting XP, I reluctantly put the poor little thing away, only using it once in a while, for fear of virus attacks.
Even though I now have a Surface Pro 2, and like that a lot, I still felt there was more life left in the netbook. So I bought a 2GB memory chip for $22, and a full version of Windows 7 Professional 32-bit edition for $73, on eBay. I spent the weekend refurbishing my old friend.
After 189 updates, installation of MS Office 2010, Visio 2010, AVG, Zonealarm, Superantispyware, Malwarebytes, Skype, VoipConnect, a VPN client, my favorite Skat game, three Auslogics utilities, the Live Movie Maker, Audacity, C-Cleaner, VLC Player, Firefox, Chrome.... and another round of 72 updates..... my little old netbook is good to go for at least six more years.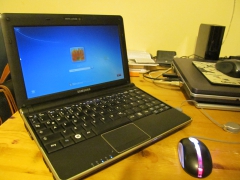 08/16/2014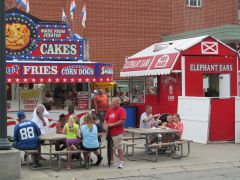 This is the first year that they are serving beer and wine at the Indiana State Fair. Before you get all excited and jump up and down about it, though, let me tell you how it works.
To get into the "adult" exhibition hall you have to make it past the guard. She will strictly enforce this "State Law" that supposedly says you can't bring any liquids inside. Not even water. Nobody under 21 years of age is allowed to enter, of course. They check your ID and put a red plastic bracelet with three tabs, numbered 1, 2, 3, on your wrist. That is to make sure you don't go on a binge.
Once inside the holy grail you may pay $5 to consume up to three samples of Indiana made beer or wine, served in little plastic cups, for a total of about 9oz. of slightly alcoholic beverage.
Seriously? No, thank you. It's funny, though.
01/06/2014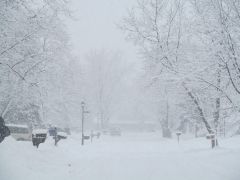 It had been snowing almost non-stop yesterday, leaving us with
about 14 inches of snow on the ground. Temperatures had dropped
drastically to -17°F. Figuring in the windchill factor we are now facing
life-threatening -40°F and a travel warning has been
issued by the authorities.
Currently only emergency travel is allowed. Most businesses,
schools, and government offices remain closed for today.
Indiana Tech decided to follow suit, which gives me a very welcome
day of plowing snow, unclogging a drain in the bathroom,
and staying warm by the fireplace.
07/18/2013
I like to buy local, support the community, avoid "Made in China". Products made in China symbolize everything that is, in my opinion, wrong with the economy. I associate "Made in China" with cheap, mass-produced junk.
I like to create, design, build things for myself. Building your own stuff is, in my opinion, the right way to go about it. I associate "do-it-yourself" with valuable, high-quality products.
But then I stumbled upon this webpage, by Converse, where you can fully custom configure a pair of sneakers; they will be manufactured in China, though. I could not resist the urge to design the wildest pair of chucks possible, and ordered them in my size.
They arrived today, they are way cool, and they got me thinking - maybe "Made in China" isn't so bad, if I designed it? It would still be better, if I could buy "Made in the USA" - designed by Me.