03/13/2016
Saturday evening I went into the basement to finish making an ExxoPok that I had started on earlier and noticed a small puddle of water right underneath our main drain on the floor.
I knew immediately where that was coming from, because a few years ago the same thing happened. There is a 1.5 foot section of really flimsy tube, made of unknown material, connecting from the copper pipe above into the cast iron drain that goes out.
Last time there was a leak on the bottom of this connection pipe, which we fixed by wrapping water activated fiber-glass epoxy tape around it. This time water was coming out of a growing hole at the top of the connection.
Sunday morning, by the time we had finally made it to Lowe's and back, to get more of that magic bandage, there was about a gallon of water on the floor, eight big towels soaking wet. Two people using the bathroom, taking showers, washing dishes, didn't improve the situation.
The tricky part to the job was that wooden door-frame right next to the pipe. We had to carefully saw, drill, chisel away at it to make a gap big enough for me to get my hand through. Once you open the package of that bandage you have to apply it really quickly. The stuff fully sets within 30 minutes. This time I didn't just wrap the leaky part; I put a full four rolls of the fiber-glass tape all the way around the entire piece of pipe.
That should last a few more years.
02/07/2016
I've been using Microsoft's operating system(s) on various computers since version 3.11 of Windows. Each new version brought some improvements, some new features, some limitations, and some new bugs. I learned to live with all things Windows - after all, this is just an operating system.
I fully understand that Microsoft's developers are really proud of their work, and that they truly believe that Windows (in any version) is the world's best operating system, and that everybody should love it. What I don't understand, though, is why they keep pushing their latest flavor of Windows - number 10 - so aggressively. Or, maybe, I probably do understand - it must be to Microsoft's benefit somehow, or else they wouldn't do it.
I personally own an antique PC tower still fully functional with Windows 98, a laptop running Windows XP, a netbook on Windows 7 Professional 32-bit, a desktop PC operated by Windows 7 Home 64-bit, and a Surface Pro with Windows 8.1 on it. All these machines are mine. I bought them. I run licensed copies of Windows on them. I keep all these machines updated, well maintained, running smoothly, free of malware.
So, please, Microsoft, get off of me! I really don't want to install Windows 10 on any of my devices. If I wanted Windows 10 on anything, I would know where to go and get it. I wouldn't even mind paying for it. You can really stop bugging me now, because it gets old after a while. You might have realized by now, that I found out what to watch for and how to make sure your nagware doesn't accidentally make it onto my hard-drives, hiding behind a long list of "important" updates with inconspicuous KB........-numbers.
By the way, I may eventually buy another PC, laptop, or tablet - and if it came with Windows 10 installed, I wouldn't mind. That would be when I want it, though, not when you want it.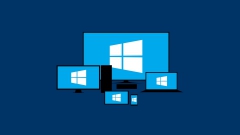 01/18/2016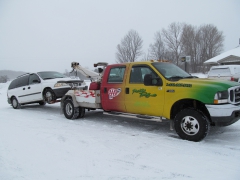 We were on our way home from Cadillac, MI, after a fun and relaxing skiing weekend. Our old van was loaded with skiing gear, two medium size suitcases, stuff for our dog, a cooler, some food. Since we only had a quarter tank of gas left, I decided to get off the highway and fill up. As I drove down the ramp the engine revved up all by itself, and then I lost all power - a very familiar feeling which I remembered from a few years ago with our Taurus.
I slowly rolled to the side of the road. Try turning it off and back on again, try reverse, now try drive, what about 1, or 2 - nothing. That's bad. Now what? While we were sitting there, searching for the closest towing service on the smartphone, a Sheriff pulls up from behind and asks if we needed help. The Sheriff called a tow truck for us, which took only about 15 minutes to arrive. Phil's County Line Service is just a mile away, in Reed City, MI.
Another 45 minutes later we had a rental car driver from Enterprise in Big Rapids, MI, come pick us up. Most of our stuff fit in the trunk of that Hyundai Sonata. Except for our skis and the cooler. The drive home was a bit tricky because of the weather. Lake effect snow falling, then blowing and drifting across icy roads. We drove past three trucks that had rolled over into the ditch, and two cars had slid off the highway - probably because of somebody being in a big hurry to get somewhere.
It looks like there will be another trip to Reed City, MI - to pick up the van (if they fixed it) or try to sell it for parts (if it isn't worth fixing).
12/26/2015
Now that two of the three phones on our family plan were out of contract, and the "early termination fee" for the third line was about as much as one month's payment for the entire plan, we gave them one last call to cancel the whole thing.
Google's Project fi helps cut our cost in half. They charge only for the data that we actually use - at $.10 per KByte. No international roaming charges either; unlimited texting worldwide, unlimited phone-calls in the US; $.01 per minute for international calls; no charges ever for incoming calls worldwide; no contract to be stuck with; one easy simple bill to check right there, on your phone.
Too bad fi didn't come earlier - ten years' worth of unused data lost to Verizon could have added up to $10,000 more in our pockets instead.
12/15/2015
Normally I don't trust banks. I have a quite negative opinion about them. I use banks because I have to, not because I want to. Today, though, I was pleasantly surprised about how one bank did business with me.
Here's what happened:
at 7:28 a.m. I received a text message to my cell phone, and an email, alerting me of an international transaction on one of my credit cards. The message stated the transaction amount of $0.51 and the name of a person I did not recognize.


at 7:30 a.m. I called the number on the back of my card and talked to somebody with a heavy Indian accent. I immediately thought, this was going to go South now - my English isn't good enough for Indian call center people.


at 7:33 a.m. the Indian call center person transferred me to the bank's US Fraud Department. There I got to talk to someone speaking perfect American. She asked me a few questions to confirm my identity. Then she explained that my card had obviously been compromised, the fraudulent transaction would be reversed, and I would be issued a new card free of charge. My new card should arrive in the mail within a week, and that I may now destroy the old card which would be invalidated effective immediately.


at 7:41 a.m. I hung up, thinking to myself "wow! that was quick."
What do we learn from that? Not all banks are evil. If your bank or credit card company gives you the option of setting up account activity alerts, use them! If your bank doesn't offer that level of service, demand that they do!