06/07/2016
I invented the awesome ExxoPok phone pouch - and I (try to) sell it on Etsy and Ebay. Not bad, for a start. It's like having a stand at the flea-market, though. Your shop isn't really yours, and the marketplace wants to make money off of you by charging various fees. Listing fees, transaction fees, monthly fees, service fees.........
So I started looking for ways to diversify, maybe add a web-shop to my own little old home page? Or sell ExxoPoks on Facebook? There are so many different ways to do that, I started to get confused. Shopify, Volusion, BigCartel, SquareSpace, 3dCart, LemonStand, BigCommerce, AmeriCommerce......... all fine products having several flaws in common.
They all cost monthly fees (after some initial trial period), ranging anywhere from $8 to $299 a month, depending on the level of flexibility you buy. Also, once you decide what e-commerce platform to use, you are pretty much "stuck" with them. Migrating to a different platform is complicated, or next to impossible, for most of these.
After weeks of digging I finally found a little gem called "Ecwid". It took me a few hours on the weekend to get this figured out, setting up a subdomain, adding a free template to it, customizing that and integrating Ecwid's shop plugin - looks great!
Then I realized you can simply add that plugin to a Facebook page too. For up to 10 items the whole platform is completely free to use, forever. Which means, if I make a sale through Ecwid, all I'd have to pay would be Paypal's transaction fees.
I even figured out how to embed a single product widget right here, in my old blog!
06/04/2016
Today I volunteered to help Suin and Lee, professors of German at IPFW, with their brilliant "German on the Spot" event at the local public library. People could drop in with any old document, postcard, letter, photo... written in German that they had always wondered what it said on there.
My (only slightly rusty) skills acquired 1965 in fourth grade in Germany - reading and writing Sütterlin-/Kurrentschrift - came in handy to decipher faded handwriting. The personal touch, reading snippets about people's lives, makes history enjoyable and interesting.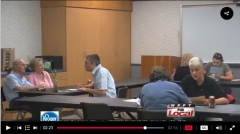 The event was covered by local media
05/26/2016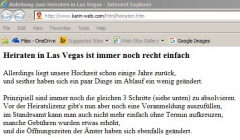 Today I wanted to put a link to my Etsy shop on the main page of my little old website, built with a text-editor in 2001, left untouched since 2006. While I was already logged in to my cPanel on the hosting page, I checked my website statistics and found the most visited page.
I have an average of about 20 visitors a day, every day, who came to this one page after searching on Google for "heiraten in Las Vegas". Google takes them to this location, buried deep in my slightly unstructured website, where I simply describe, in minimally formatted text, how ridiculously easy it was to get married in Las Vegas in 2004. This one page is the only one on my website that I wrote in German, everything else is in English.
For some reason Google considers this piece of plain text, mostly outdated, information highly relevant to the subject - and I didn't even know about SEO back then, nor did I care how many visitors I have on my page.
Go figure!?
03/13/2016
Saturday evening I went into the basement to finish making an ExxoPok that I had started on earlier and noticed a small puddle of water right underneath our main drain on the floor.
I knew immediately where that was coming from, because a few years ago the same thing happened. There is a 1.5 foot section of really flimsy tube, made of unknown material, connecting from the copper pipe above into the cast iron drain that goes out.
Last time there was a leak on the bottom of this connection pipe, which we fixed by wrapping water activated fiber-glass epoxy tape around it. This time water was coming out of a growing hole at the top of the connection.
Sunday morning, by the time we had finally made it to Lowe's and back, to get more of that magic bandage, there was about a gallon of water on the floor, eight big towels soaking wet. Two people using the bathroom, taking showers, washing dishes, didn't improve the situation.
The tricky part to the job was that wooden door-frame right next to the pipe. We had to carefully saw, drill, chisel away at it to make a gap big enough for me to get my hand through. Once you open the package of that bandage you have to apply it really quickly. The stuff fully sets within 30 minutes. This time I didn't just wrap the leaky part; I put a full four rolls of the fiber-glass tape all the way around the entire piece of pipe.
That should last a few more years.
02/07/2016
I've been using Microsoft's operating system(s) on various computers since version 3.11 of Windows. Each new version brought some improvements, some new features, some limitations, and some new bugs. I learned to live with all things Windows - after all, this is just an operating system.
I fully understand that Microsoft's developers are really proud of their work, and that they truly believe that Windows (in any version) is the world's best operating system, and that everybody should love it. What I don't understand, though, is why they keep pushing their latest flavor of Windows - number 10 - so aggressively. Or, maybe, I probably do understand - it must be to Microsoft's benefit somehow, or else they wouldn't do it.
I personally own an antique PC tower still fully functional with Windows 98, a laptop running Windows XP, a netbook on Windows 7 Professional 32-bit, a desktop PC operated by Windows 7 Home 64-bit, and a Surface Pro with Windows 8.1 on it. All these machines are mine. I bought them. I run licensed copies of Windows on them. I keep all these machines updated, well maintained, running smoothly, free of malware.
So, please, Microsoft, get off of me! I really don't want to install Windows 10 on any of my devices. If I wanted Windows 10 on anything, I would know where to go and get it. I wouldn't even mind paying for it. You can really stop bugging me now, because it gets old after a while. You might have realized by now, that I found out what to watch for and how to make sure your nagware doesn't accidentally make it onto my hard-drives, hiding behind a long list of "important" updates with inconspicuous KB........-numbers.
By the way, I may eventually buy another PC, laptop, or tablet - and if it came with Windows 10 installed, I wouldn't mind. That would be when I want it, though, not when you want it.