01/18/2016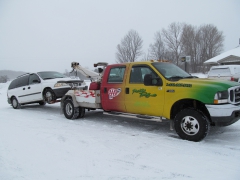 We were on our way home from Cadillac, MI, after a fun and relaxing skiing weekend. Our old van was loaded with skiing gear, two medium size suitcases, stuff for our dog, a cooler, some food. Since we only had a quarter tank of gas left, I decided to get off the highway and fill up. As I drove down the ramp the engine revved up all by itself, and then I lost all power - a very familiar feeling which I remembered from a few years ago with our Taurus.
I slowly rolled to the side of the road. Try turning it off and back on again, try reverse, now try drive, what about 1, or 2 - nothing. That's bad. Now what? While we were sitting there, searching for the closest towing service on the smartphone, a Sheriff pulls up from behind and asks if we needed help. The Sheriff called a tow truck for us, which took only about 15 minutes to arrive. Phil's County Line Service is just a mile away, in Reed City, MI.
Another 45 minutes later we had a rental car driver from Enterprise in Big Rapids, MI, come pick us up. Most of our stuff fit in the trunk of that Hyundai Sonata. Except for our skis and the cooler. The drive home was a bit tricky because of the weather. Lake effect snow falling, then blowing and drifting across icy roads. We drove past three trucks that had rolled over into the ditch, and two cars had slid off the highway - probably because of somebody being in a big hurry to get somewhere.
It looks like there will be another trip to Reed City, MI - to pick up the van (if they fixed it) or try to sell it for parts (if it isn't worth fixing).
12/26/2015
Now that two of the three phones on our family plan were out of contract, and the "early termination fee" for the third line was about as much as one month's payment for the entire plan, we gave them one last call to cancel the whole thing.
Google's Project fi helps cut our cost in half. They charge only for the data that we actually use - at $.10 per KByte. No international roaming charges either; unlimited texting worldwide, unlimited phone-calls in the US; $.01 per minute for international calls; no charges ever for incoming calls worldwide; no contract to be stuck with; one easy simple bill to check right there, on your phone.
Too bad fi didn't come earlier - ten years' worth of unused data lost to Verizon could have added up to $10,000 more in our pockets instead.
12/15/2015
Normally I don't trust banks. I have a quite negative opinion about them. I use banks because I have to, not because I want to. Today, though, I was pleasantly surprised about how one bank did business with me.
Here's what happened:
at 7:28 a.m. I received a text message to my cell phone, and an email, alerting me of an international transaction on one of my credit cards. The message stated the transaction amount of $0.51 and the name of a person I did not recognize.


at 7:30 a.m. I called the number on the back of my card and talked to somebody with a heavy Indian accent. I immediately thought, this was going to go South now - my English isn't good enough for Indian call center people.


at 7:33 a.m. the Indian call center person transferred me to the bank's US Fraud Department. There I got to talk to someone speaking perfect American. She asked me a few questions to confirm my identity. Then she explained that my card had obviously been compromised, the fraudulent transaction would be reversed, and I would be issued a new card free of charge. My new card should arrive in the mail within a week, and that I may now destroy the old card which would be invalidated effective immediately.


at 7:41 a.m. I hung up, thinking to myself "wow! that was quick."
What do we learn from that? Not all banks are evil. If your bank or credit card company gives you the option of setting up account activity alerts, use them! If your bank doesn't offer that level of service, demand that they do!
12/08/2015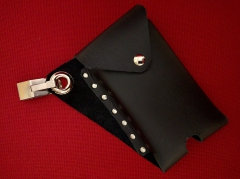 I know my design idea for the ExxoPok is ingenious. I know the "angle of dangle" solves the main problem that people have with today's big smart-phones. I also heard "hey, you should market that!" from a few people. I was thinking about it.
Still, thinking about something is different from actually doing it.
So when I finally set up my shop on Etsy early in November, I thought nothing would come out of that, probably. There are millions of products on Etsy. Thousands of cell-phone pouches to chose from, hundreds of them looking way more "polished" than mine.
Nevertheless - today it really happened! A lady in New York City ordered a black, left-handed ExxoPok for her LG G4 phone. I was so excited, I had to make that pouch right away. It will ship tomorrow.
12/05/2015
Fedex delivered a small package today from Google. Lego bricks, a USB cable, and instructions how to build either a "phone stand" or a "cable tidy" out of the Legos.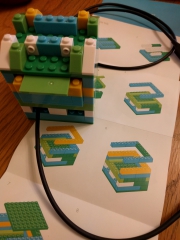 That really was a nice surprise! Verizon never did anything like that to maybe show that they value their customers.
I built the cable box out of my legos, adding the leftover parts onto the top for decoration.