11/24/2015
Project Fi, the magical phone bill reduction
I don't trust "big business", usually - and I don't "advertize" other people's stuff, usually - but this one is different. Having a smart phone with a data plan in the USA is expensive, comes with unfair pricing, non-existent customer service, and outrageous roaming charges - usually.
Until you discover Google's Project Fi. Unlimited calls and text in the US for $20 a month, plus $10 per GB of data, plus tax & fees. No roaming charges, incoming calls are free worldwide, and (here's my favorite part) you get a credit (real money back, not some hogwash "roll-over") for unused data on your next month's bill. The price for data is the same $10 per GB worldwide, and should you use more data than anticipated, there are no extra "overage" charges.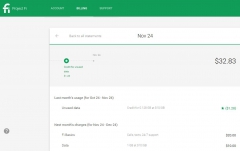 Sounds good, but where's the catch? Two little caveats, maybe:
currently you still have to "apply" for an invitation and then wait for about six weeks before they'll let you sign up.
Also, there are still only three phones that will work with Fi - Nexus 5X, Nexus 6, and Nexus 6P.
I can live with that!