11/03/2015
Make or Buy?
As a software developer I've had to make that decision many times - is it better to simply make what you need, or should you look to buy existing solutions? I personally like the feeling of power that I get from being self-sufficient, so I tend to lean towards "make your own". From the business perspective, though, I agree that re-inventing the wheel is a waste of resources.
If you decide that buying is in your best financial interest, your search for solutions may not render the desired results - which is when you should be prepared to make what solves your problem, and take pride in your own creativity.
That's why I invented the


I tried to find a pouch for my new "big" smart-phone that would meet all my requirements:
is made out of genuine leather
has a belt-clip
doesn't come off when I bend over
doesn't bruise my thigh when I sit down
won't make me look fat
fits my Nexus 5X with a shock-proof case on it
comes in whatever colour I want
isn't made in China
After hours of futile search in stores and online I had to resort to my own inventive talent. A local leather craft store came in handy with materials, tools, and great advice.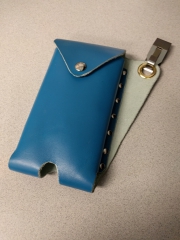 It took some prototyping, improving my design pattern and manufacturing technique, trying different variations, until the final product was ready to go public. I've made five of those by now, two for myself and three for family.
You can order yours here:
Get Your ExxoPok