08/16/2014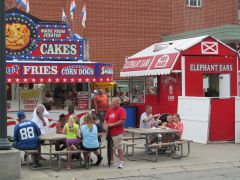 This is the first year that they are serving beer and wine at the Indiana State Fair. Before you get all excited and jump up and down about it, though, let me tell you how it works.
To get into the "adult" exhibition hall you have to make it past the guard. She will strictly enforce this "State Law" that supposedly says you can't bring any liquids inside. Not even water. Nobody under 21 years of age is allowed to enter, of course. They check your ID and put a red plastic bracelet with three tabs, numbered 1, 2, 3, on your wrist. That is to make sure you don't go on a binge.
Once inside the holy grail you may pay $5 to consume up to three samples of Indiana made beer or wine, served in little plastic cups, for a total of about 9oz. of slightly alcoholic beverage.
Seriously? No, thank you. It's funny, though.
07/03/2014
In February 2011 the Fort Wayne Board of Public Works approved a resolution to preserve a limited number of brick roads adjacent to historic districts. I didn't even know that Fort Wayne had brick roads until the past long and harsh winter revealed a small section of red brick under crumbling asphalt on my way to work.
I was intrigued by the prospect of learning more about the history of my home town and researched the location of those roads that should be preserved and maintained in their original state. Today we were allowed to leave work early, and I took my camera along a scenic tour of the historic brick roads in the West Central neighborhood.
While it is wonderful to see that history is still alive, it is also saddening to see that the city isn't doing a very good job in maintaining and preserving it. The houses in that area are in bad shape, you wouldn't want to explore there after dark. The predominant feature in West Central is the disheartening sight of the abandoned General Electric plant on the east end, closely followed by the overwhelming chemical stench coming from the Essex plant on the west end of the area.
06/15/2014
OK, I realize that most riders around here don't even own a helmet. It's "uncool", especially on a Harley. I always wear a helmet when I ride; I don't worry about looking "cool". Until now, any old helmet would do for me. It needs to fit, of course, and cover my face completely. It also needed to be reasonably priced.
My helmet served me well, with only one minor complaint: at speeds over about 50mph I had to put up with a lot of vibration inside, making my glasses dance on my nose, causing blurry vision. So I had been toying around the idea of a Schuberth C3. Made in Germany, excellent reviews, integrated Bluetooth communication system, but one huge problem: it costs around $1,000 new.
Watching ebay, I realized there are not many of those available either. People, who have one, probably like it so much they won't sell. Last Sunday I got really lucky, though! I won an auction for this white Schuberth C3 with SRC system already installed, used for only 500 miles, selling because of "sizing issues". It's mine for only $426, including shipping.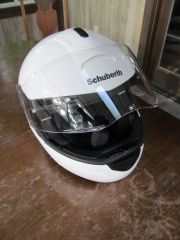 When I first tried it on, I experienced serious buyer's remorse.
It is heavy. It takes some fiddling to put on and take off. The chin-strap has some hard parts to it, which dig into the front of your neck, because the soft cushion doesn't stay in place. Sizing doesn't follow their own charts, really. People recommend you buy one size up from what you normally wear. So I got an XL, because I normally wear size L. Schuberth's XL seems just a tad too big for me, though - oh boy, what have I done...
My first impulse was to turn around and list it back on ebay.
Now I'm really glad I didn't follow that impulse! All those little problems have very easy fixes. I replaced the C3 size XL crown lining with a S2 size XL crown lining, which has the same shape and buttons, but is a bit thicker, making for a perfect, snug but comfortable, fit. The chin-strap cushion will stay put now that I sewed some velcro onto it. Putting the helmet on and removing it simply takes practice, and the weight really just takes getting used to.
My perseverance is being rewarded with the experience of a world class helmet, quiet interior, no fog, a retractable sun visor, crystal clear sound system, excellent ventilation - and hardly any vibration.
I'm hooked.
05/14/2014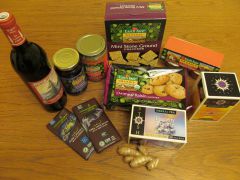 Last week a new grocery store opened in my neighborhood.
Earth Fare promises natural and organic food and supplements with the slogan "real food for real people".
No hydrogenated oil, no high-fructose corn syrup, no artificial sweeteners. Sounds good. Today we went to take a look. The store is bigger than the Health Food Shoppe on Anthony Boulevard, but smaller than the Fresh Market.
They really carry a good selection of natural and organic food, cosmetics, and other items. Some of those are also available at regular stores, like Meijer or Costco, but certain items I have never been able to find anywhere. Like red wine without sulfites.
I wouldn't recommend doing your everyday grocery shopping at Earth Fare, though. The prices are hefty, like I had expected after talking to people who had been there when the store opened. Judging by those items that I've seen elsewhere Earth Fare equals Meijer times two, or Costco times three.
05/05/2014
Tomorrow I will have a chance to vote again. It's just primary elections, but still - I'll go vote. Primaries may seem a bit confusing, because you don't really vote anybody into any office - yet. You just help one party to decide whom they will put up for their candidate(s) in the next general elections, November 4th this year.
The technicalities of primary elections vary slightly from one state to another.
According to Ind. Code §§ 3-10- 1-6, 1-9, Indiana holds so called "open primaries". That means voters do not have to declare a party affiliation upon registration. You may choose to vote on either party's ballot during primaries. You have to choose one single ballot for one distinct party, though.
Some other states have what is called "closed primaries". In those states you must declare yourself as affiliated with a specific party when you register to vote, and then consequently can only vote for that party in the primaries.
Whether your state holds open or closed primaries, and whether or not you participate, or what party's ballot you vote on, has no bearing on the next general elections. On general elections' ballots you will get to see all candidates, from all parties, who were pre-selected during primary elections.
Maybe that's why participation in primaries is usually low.