07/19/2016
I know we all get "old" sooner or later, that's by design. I am hoping to get really, really, old - because that's still better than dying young. What I don't like are the side effects of getting old. For me the most noticeable, and most annoying, side effects of aging were mobility restrictions: morning stiffness, aching joints, start-up pain, lower back pain, sciatic nerve problems, maybe even early stage arthritis, or osteoporosis.
Instead of simply accepting the facts, or going to a doctor to get some kind of prescription, I went on a treasure hunt in pursuit of a solution to my problem, or at least an improvement of the condition.
Now, two months into my research and experiment, I am happy to report that things are looking really good! My mobility has greatly improved. Joint pain is almost gone in most situations. In addition to my main concern being a lot less concerning, I am also finding suprising improvements in other areas. Thinning eyebrows are growing in nicely again, I now have visible lower eye-lashes, my skin isn't itchy and drie anymore, the gaps between my receding gums and upper back molars seem a lot smaller lately, my respiratory allergies cause less frequent/severe coughing during the day.
How did I do all this, you may ask. Apart from a few general recommendations for a healthy life-style (eat less animal protein, get enough sleep, exercise every day) I attribute my success to three supplements that I added to my daily regimen, listed in descending order of importance.
one tablespoon full of colloidal silica (Hübner Silica Gel)
two capsules of high dose pure serrapeptase (Arthur Andrew Serrétia)
two capsules of cissus quadrangularis extract (Nutrakey Cissus Quadrangularis)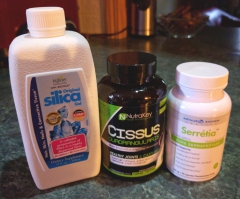 06/09/2016
Because it was rather frustrating for me, and my search on the web only turned up other people's frustration, I dedicated a few hours of my time to play around with it. It is actually ridiculously easy to make Blogspirit accept code just like you enter it – without making any changes to it.
Here's how this works:
After you log in, click on the "Publications" tab, then select "All Posts"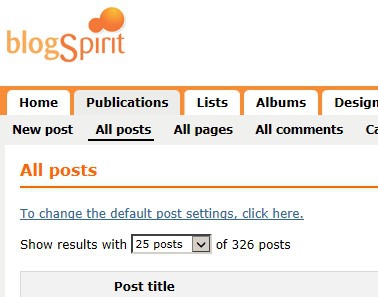 There is a link right there, "to change the default post settings, click here".
Go ahead and click that.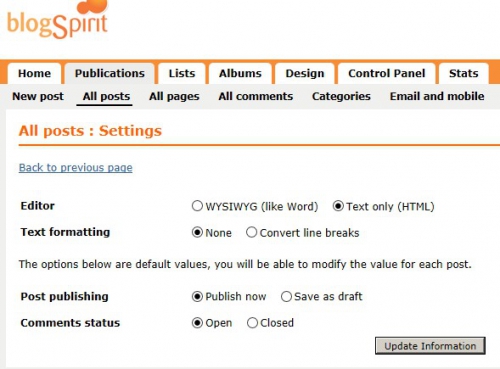 For "Editor" select "Text only". That will pop open the Text formatting option. Select "none" for that. Don't forget to click "Update Information" to save the settings.
You can always go back to the WYSIWYG editor later, after you're done with that one post in pure html.
06/07/2016
I invented the awesome ExxoPok phone pouch - and I (try to) sell it on Etsy and Ebay. Not bad, for a start. It's like having a stand at the flea-market, though. Your shop isn't really yours, and the marketplace wants to make money off of you by charging various fees. Listing fees, transaction fees, monthly fees, service fees.........
So I started looking for ways to diversify, maybe add a web-shop to my own little old home page? Or sell ExxoPoks on Facebook? There are so many different ways to do that, I started to get confused. Shopify, Volusion, BigCartel, SquareSpace, 3dCart, LemonStand, BigCommerce, AmeriCommerce......... all fine products having several flaws in common.
They all cost monthly fees (after some initial trial period), ranging anywhere from $8 to $299 a month, depending on the level of flexibility you buy. Also, once you decide what e-commerce platform to use, you are pretty much "stuck" with them. Migrating to a different platform is complicated, or next to impossible, for most of these.
After weeks of digging I finally found a little gem called "Ecwid". It took me a few hours on the weekend to get this figured out, setting up a subdomain, adding a free template to it, customizing that and integrating Ecwid's shop plugin - looks great!
Then I realized you can simply add that plugin to a Facebook page too. For up to 10 items the whole platform is completely free to use, forever. Which means, if I make a sale through Ecwid, all I'd have to pay would be Paypal's transaction fees.
I even figured out how to embed a single product widget right here, in my old blog!
06/04/2016
Today I volunteered to help Suin and Lee, professors of German at IPFW, with their brilliant "German on the Spot" event at the local public library. People could drop in with any old document, postcard, letter, photo... written in German that they had always wondered what it said on there.
My (only slightly rusty) skills acquired 1965 in fourth grade in Germany - reading and writing Sütterlin-/Kurrentschrift - came in handy to decipher faded handwriting. The personal touch, reading snippets about people's lives, makes history enjoyable and interesting.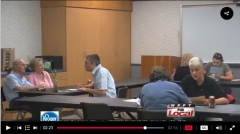 The event was covered by local media
05/26/2016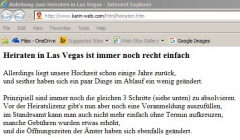 Today I wanted to put a link to my Etsy shop on the main page of my little old website, built with a text-editor in 2001, left untouched since 2006. While I was already logged in to my cPanel on the hosting page, I checked my website statistics and found the most visited page.
I have an average of about 20 visitors a day, every day, who came to this one page after searching on Google for "heiraten in Las Vegas". Google takes them to this location, burried deep in my slightly unstructured website, where I simply describe, in minimally formatted text, how ridiculously easy it was to get married in Las Vegas in 2004. This one page is the only one on my website that I wrote in German, everything else is in English.
For some reason Google considers this piece of plain text, mostly outdated, information highly relevant to the subject - and I didn't even know about SEO back then, nor did I care how many visitors I have on my page.
Go figure!?