06/07/2015
Anonymity, at least 85%
I have been active on the internet since 1998, doing things that seemed crazy geeky at the time.
Like video-chatting with people on the other side of the globe. I used Netmeeting on Microsoft's IRL servers. My Skype account was created as soon as they released their first public beta version, some time in late 2003. Being an early adopter can have advantages! For Skype this means my profile is somehow frozen in time.
It can't be changed. It can't be edited. It doesn't get flooded with junk contact requests from scammers, spammers, bots and crooks. A few years ago, when I moved to the US, I thought I should maybe update my personal details - but it never worked.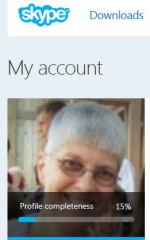 The only things that I can change are the profile picture, and the password. Everything else doesn't seem to get saved.
No first name, no last name, no gender, no birthdate, no address, no language; whatever minimal information I entered back in 2003 is going to be all there is for the rest of my life. Skype thinks I live in Germany and I pay in Euros.
I was crazy enough to try getting that "fixed" and emailed back and forth for a while with their customer support. That was really funny! They had absolutely no clue. I had a feeling they didn't even understand, what my "problem" was.
Now I am happy about the fact, that I can "hide" my identity - at least with Skype - and be 85% unknown. It's a bit of a privilege, like my Yahoo! email account, registered in 1999, without a phone number.