01/18/2016
Reed City (??), MI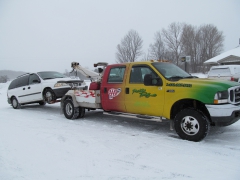 We were on our way home from Cadillac, MI, after a fun and relaxing skiing weekend. Our old van was loaded with skiing gear, two medium size suitcases, stuff for our dog, a cooler, some food. Since we only had a quarter tank of gas left, I decided to get off the highway and fill up. As I drove down the ramp the engine revved up all by itself, and then I lost all power - a very familiar feeling which I remembered from a few years ago with our Taurus.
I slowly rolled to the side of the road. Try turning it off and back on again, try reverse, now try drive, what about 1, or 2 - nothing. That's bad. Now what? While we were sitting there, searching for the closest towing service on the smartphone, a Sheriff pulls up from behind and asks if we needed help. The Sheriff called a tow truck for us, which took only about 15 minutes to arrive. Phil's County Line Service is just a mile away, in Reed City, MI.
Another 45 minutes later we had a rental car driver from Enterprise in Big Rapids, MI, come pick us up. Most of our stuff fit in the trunk of that Hyundai Sonata. Except for our skis and the cooler. The drive home was a bit tricky because of the weather. Lake effect snow falling, then blowing and drifting across icy roads. We drove past three trucks that had rolled over into the ditch, and two cars had slid off the highway - probably because of somebody being in a big hurry to get somewhere.
It looks like there will be another trip to Reed City, MI - to pick up the van (if they fixed it) or try to sell it for parts (if it isn't worth fixing).