11/28/2010
Long cold nights and short frosty days call for some indoor activities and outdoor decorations again this year. Today it warmed up a little bit and it was nice and sunny outside. Perfect weather to get the lights out of the basement and hang them up along the front porch.
For this year's advent wreath I used dried natural materials that I had collected on one of our walks with the dog. This looks better than the plastic stuff I had on it in past years.
I'm looking forward to a cup of Glühwein by candle-light now.
10/10/2010
This is the season for outdoor activities. It's nice and warm, not unbearably hot anymore. The mosquitoes are pretty much gone. The backyard provides plenty of dry leaves and sticks for a small fire. Time to have smores!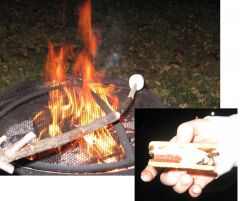 Put a marshmellow on a stick and hold it over the fire. Melt it, but don't burn it. Then lay a bar of milk chocolate on a graham cracker and hold that under your soft marshmellow. Use a second graham cracker to pull the melting marshmellow off the stick. Now squoosh the gooey mess flat between your crackers and enjoy.
09/14/2010
This summer saw a lot of digging activities on campus, which sometimes forced me to take a different route for my lunch break walk around the Concordia Lutheran Cemetery. Now that day sessions are back in full swing and the grass is growing over all those holes, it seemed like I could return to my daily walking routine. I was going to settle for that until today, when I discovered some newly dug holes with these fancy posts in them along parts of my walk.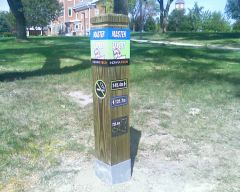 We now have four 'official' walking trails on and around our beautiful campus! I may be tempted to try them out some time soon.
07/04/2010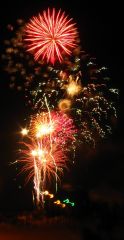 4th of July wouldn't be right without watching some fireworks display. This year we watched IPFW's show from the roof of one of their parking garages. That is definitely the very best spot to be at! There is nothing around to obstruct your view. It feels like the sky is raining stars onto you.
07/03/2010
Our Independence Day weekend trip to the Indiana Dunes State Park is becoming a family tradition. Probably because it has all the ingredients of a really good time. It's close to home, just about two and a half hours drive.
The Comfort Inn in Portage is pet friendly and not too expensive. Central Beach is close by, also pet friendly, and long enough to accomodate even a 4th of July crowd. The Lighthouse Place outlet mall in Michigan City is another good reason to load up the van and go there.