10/30/2011
As the year winds down towards winter there are more opportunities to take advantage of the natural ambience and be creative, yet traditional.
Even Halloween, with its over-commercialized candy madness, offers a more spiritual side for us old-fashioned people.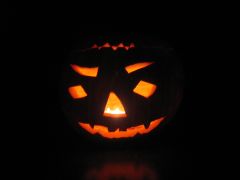 The tradition of carving a lantern started in the British Isles around the 1800s. However, it was traditionally sliced out of a turnip.
They were created
on All Hallows' Eve and left on the door step to ward off evil spirits.
An offering or, as we now know it, a "treat", would also be commonly left to placate roaming spirits - otherwise they might 'fiddle' with property or livestock (play a "trick").
Once the tradition moved to the US, it was adapted to the carving of a pumpkin as these vegetables were more readily available, bigger and easier to carve.
07/20/2011
Just a few days ago I was made aware of an amazing company in Northeast Indiana. Albanese Candy makes gummis from 100% USA grown ingredients. The factory is right here in Indiana too! No outsourcing anything to China. I support that, and I love gummi bears.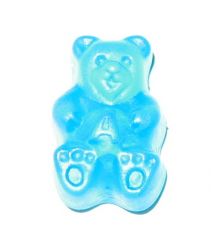 Albanese gummis are quite different from the Haribos I grew up with. They are softer, bigger, come in more colors, and have a more intense taste. You'll recognize an Albanese gummi bear by the 'A' on its belly.
05/30/2011
This year's extended Memorial Day weekend was packed full with fun and excitement; some of it carefully planned, some completely unexpected. We didn't expect Central Beach at Lake Michigan to be infested with myriads of nasty, blood-sucking horse flies. Which is why, after just a short dip into the refreshingly cold water, we escaped to the more pleasant environment of the Lighthouse Mall in Michigan City.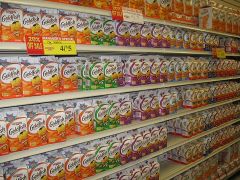 The tiny Pepperidge Farm outlet store there carries a variety of different cookies and crackers, but today their most prominently displayed item was fish. Goldfish crackers, to be precise. Over a dozen different flavors of it.
02/02/2011
If you have to go places, a huge snow storm like this one may be a problem. If you can just stay home, like me, it's fun. I didn't have to go to work today. So I slept in, had a big healthy breakfast, then got the snow-blower out and cleaned our driveway. Many neighbors were doing the same thing. Later on I'll have time to catch up on my homework for the current class.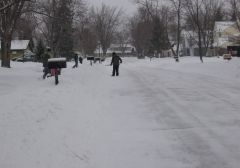 12/22/2010

OK, some people have more decoration, and some have less. This neighbor definitely has more. I counted nineteen blow-up objects scattered loosely around their front yard. All of them thoroughly attached to the ground with four to eight strings each. Some light up at night.
It's quite a sight!