03/16/2012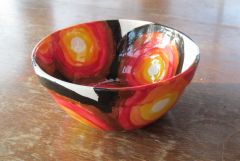 One of the reasons why I love my job is because it's not all about the job.
Our Creative Services Department organizes "surprise parties" about once a month during regular business hours.
If you are lucky, you may receive an invitation to participate in some fun, relaxing, entertaining activity other than your daily job. Last month I was invited to a "Pottery Painting Party". This awesome ice-cream bowl is my own artwork!
11/19/2011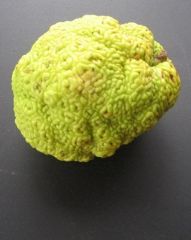 Today I found a plastic bag on the workbench in our garage. In it were half a dozen very strange looking, exotic, light-green, baseball size vegetables. I had never seen anything like that before.
Tom got them from a colleague at work. He said they are called hedge apples and supposedly help keep spiders and other insects out of your house, basement, or garage.
After doing a little research on this peculiar looking fruit I decided to plant one of them in a pot with some dirt and wait for an osage orange tree to grow from it. I'll keep you posted about the success - or failure - of this experiment.
10/30/2011
As the year winds down towards winter there are more opportunities to take advantage of the natural ambience and be creative, yet traditional.
Even Halloween, with its over-commercialized candy madness, offers a more spiritual side for us old-fashioned people.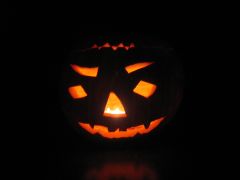 The tradition of carving a lantern started in the British Isles around the 1800s. However, it was traditionally sliced out of a turnip.
They were created
on All Hallows' Eve and left on the door step to ward off evil spirits.
An offering or, as we now know it, a "treat", would also be commonly left to placate roaming spirits - otherwise they might 'fiddle' with property or livestock (play a "trick").
Once the tradition moved to the US, it was adapted to the carving of a pumpkin as these vegetables were more readily available, bigger and easier to carve.
07/20/2011
Just a few days ago I was made aware of an amazing company in Northeast Indiana. Albanese Candy makes gummis from 100% USA grown ingredients. The factory is right here in Indiana too! No outsourcing anything to China. I support that, and I love gummi bears.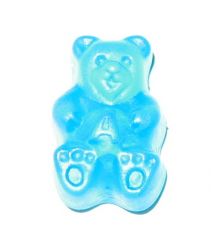 Albanese gummis are quite different from the Haribos I grew up with. They are softer, bigger, come in more colors, and have a more intense taste. You'll recognize an Albanese gummi bear by the 'A' on its belly.
05/30/2011
This year's extended Memorial Day weekend was packed full with fun and excitement; some of it carefully planned, some completely unexpected. We didn't expect Central Beach at Lake Michigan to be infested with myriads of nasty, blood-sucking horse flies. Which is why, after just a short dip into the refreshingly cold water, we escaped to the more pleasant environment of the Lighthouse Mall in Michigan City.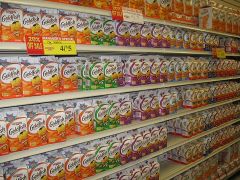 The tiny Pepperidge Farm outlet store there carries a variety of different cookies and crackers, but today their most prominently displayed item was fish. Goldfish crackers, to be precise. Over a dozen different flavors of it.