01/13/2013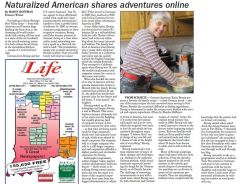 The January 2013 issue of "Senior Life" contains an article about me, starting on page 4, which I had been interviewed for last month.
I wasn't sure, whether or not to participate, because of the target audience of this magazine.
Am I really a "senior" now?
http://www.the-papers.com/OnlineIssue.aspx?pub=seniorlife...
12/14/2012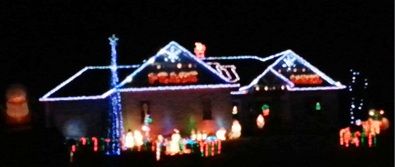 Indiana Tech's annual Holiday Dinner took us out to a part of town where we usually don't go. So, since we were already in the area, we decided to take a detour on the way home and drive by one very elaborate Christmas decoration that this family set up for everybody to watch and listen. The entire house lights up to the rhythm of "All I want for Christmas is You". If you watch closely, you can see Santa Claus working inside, behind one of the windows.
11/07/2012
The local TV station wanted to feature a new citizen's first time vote, so they emailed me and asked if I would be available. On Sunday before the election I was interviewed for about half an hour at home. Then on election day they watched as I waited in line, and then cast my vote, and then interviewed me again on my way out.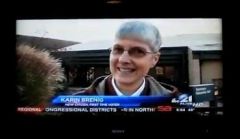 Out of the roughly 45 minutes of footage they cut a 45 seconds report which then aired the next day during the 6:00 p.m. local news. I was surprised, that a few people actually noticed I was on TV and told me about it.
10/31/2012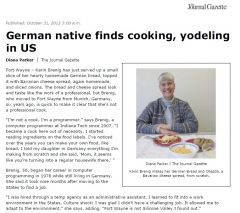 Today's Journal Gazette featured a half page article about me (!) in Diana Parker's "Cook's Corner". The article was based on an interview that I had given on Monday. Samples of my German bread and Obazda had been consumed and recipes compiled.
I found this very flattering, especially since I am absolutely not your typical housewife/cook. A lack of healthy, tasty food choices within local reach forced me to discover the hidden "chef" inside.
http://www.journalgazette.net/article/20121031/FEAT0107/3...
09/22/2012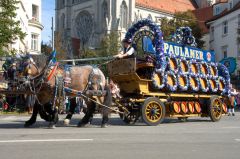 I won't make it in time to watch the parade, but that's OK - I've seen it over 30 times already. There will be plenty of opportunities for me to participate in the world's biggest party, hosted by the world's most beautiful big city, once I get there on Sunday.
You may wonder why somebody (like me) who went to München's Oktoberfest every year for the past half a century doesn't get bored with it. It's easy to explain:
where else can you make about 7,000 new best friends within a couple of hours?