01/06/2014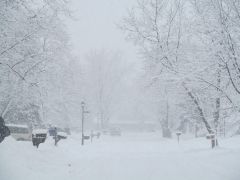 It had been snowing almost non-stop yesterday, leaving us with
about 14 inches of snow on the ground. Temperatures had dropped
drastically to -17°F. Figuring in the windchill factor we are now facing
life-threatening -40°F and a travel warning has been
issued by the authorities.
Currently only emergency travel is allowed. Most businesses,
schools, and government offices remain closed for today.
Indiana Tech decided to follow suit, which gives me a very welcome
day of plowing snow, unclogging a drain in the bathroom,
and staying warm by the fireplace.
07/18/2013
I like to buy local, support the community, avoid "Made in China". Products made in China symbolize everything that is, in my opinion, wrong with the economy. I associate "Made in China" with cheap, mass-produced junk.
I like to create, design, build things for myself. Building your own stuff is, in my opinion, the right way to go about it. I associate "do-it-yourself" with valuable, high-quality products.
But then I stumbled upon this webpage, by Converse, where you can fully custom configure a pair of sneakers; they will be manufactured in China, though. I could not resist the urge to design the wildest pair of chucks possible, and ordered them in my size.
They arrived today, they are way cool, and they got me thinking - maybe "Made in China" isn't so bad, if I designed it? It would still be better, if I could buy "Made in the USA" - designed by Me.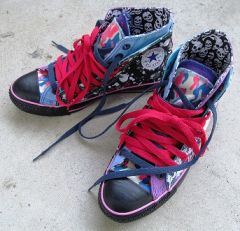 01/13/2013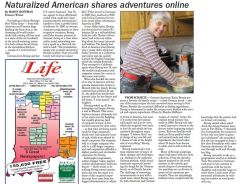 The January 2013 issue of "Senior Life" contains an article about me, starting on page 4, which I had been interviewed for last month.
I wasn't sure, whether or not to participate, because of the target audience of this magazine.
Am I really a "senior" now?
http://www.the-papers.com/OnlineIssue.aspx?pub=seniorlife...
12/14/2012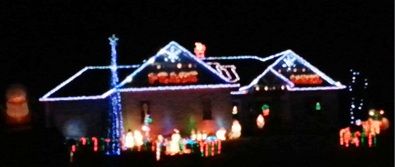 Indiana Tech's annual Holiday Dinner took us out to a part of town where we usually don't go. So, since we were already in the area, we decided to take a detour on the way home and drive by one very elaborate Christmas decoration that this family set up for everybody to watch and listen. The entire house lights up to the rhythm of "All I want for Christmas is You". If you watch closely, you can see Santa Claus working inside, behind one of the windows.
11/07/2012
The local TV station wanted to feature a new citizen's first time vote, so they emailed me and asked if I would be available. On Sunday before the election I was interviewed for about half an hour at home. Then on election day they watched as I waited in line, and then cast my vote, and then interviewed me again on my way out.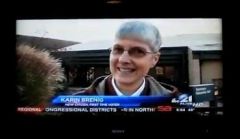 Out of the roughly 45 minutes of footage they cut a 45 seconds report which then aired the next day during the 6:00 p.m. local news. I was surprised, that a few people actually noticed I was on TV and told me about it.