02/27/2010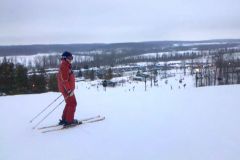 Ohio isn't really what comes to mind first when thinking about downhill skiing, but there it is: Mad River Mountain.
It's only about 2.5 hours of leisurely drive away from Fort Wayne, and there is a Comfort Inn in nearby Bellefontaine where you can bring a dog along. They have extra large rooms with a whirlpool, just what you need after a few hours out in the snow to relax the sore muscles.
01/01/2010
New Year's Eve is another chance to party with friends, and to carry on the family traditions. Like herring salad, and fireworks, and champagne at midnight, and watching 'Dinner for One' on TV, and melting lead to predict the future.

This year one of my pieces is clearly the mask of Zorro.
The other came in two parts, neither of which I recognize as anything in particular.
Now the question is:
what does the mask of Zorro mean for my new year?
Am I going to become the hero of impoverished Mexicans?
Or is this just a symbol for all my hidden talents, which I can use for the betterment of people's lives - once I get on my horse, grab my sword and go ride out into the darkness?
10/30/2009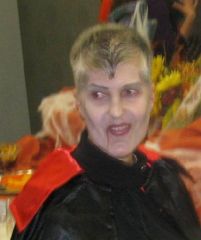 This year Halloween was on a Saturday, so no reason to spend an entire day in the office dressed up with a scary costume.
I got lucky though!
The invitation to Indiana Tech's 2010 Fund Drive kick-off party said 'feel free to come dressed in your favorite costume'. So I dressed in plain black for the day, and just threw on a cape and painted my face in time for the party.
10/17/2009
It's been over 22 years since I last owned a motorcycle. I enjoyed riding very much, but my life just didn't have any room for a bike in it for a long time. Now things have changed to my favor, and I'll be riding again. Last week we drove to Hayden Honda in Kendallville and bought a blue-silver Honda Shadow Aero.
Today we picked her up.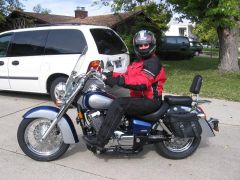 I was a little nervous at first, because it's been a long time since I last rode. After the first few miles it felt like I'd been riding every day. The weather was favorable too. No rain for the first time in a week, and around 45°F to go with it.
09/09/2009
I watched the 200th episode of my favorite TV show *Alarm für Cobra 11* on RTL's website today. The title was *Das Ende der Welt* (the end of the world).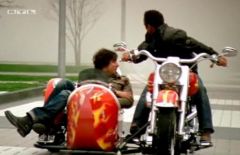 It was a double-length, action packed, suspenseful story about Semir and Ben saving the world (and themselves) from a deadly virus.
The episode aired last Thursday, and today was the last day that it was available to watch for free on the web.
Tomorrow the next episode will be showing on TV, and then I would have to pay .99 € to watch this one.
I know, I'm cheap.