07/04/2010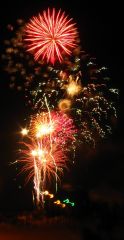 4th of July wouldn't be right without watching some fireworks display. This year we watched IPFW's show from the roof of one of their parking garages. That is definitely the very best spot to be at! There is nothing around to obstruct your view. It feels like the sky is raining stars onto you.
07/03/2010
Our Independence Day weekend trip to the Indiana Dunes State Park is becoming a family tradition. Probably because it has all the ingredients of a really good time. It's close to home, just about two and a half hours drive.
The Comfort Inn in Portage is pet friendly and not too expensive. Central Beach is close by, also pet friendly, and long enough to accomodate even a 4th of July crowd. The Lighthouse Place outlet mall in Michigan City is another good reason to load up the van and go there.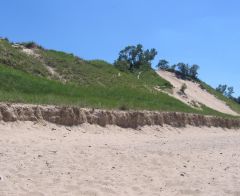 02/27/2010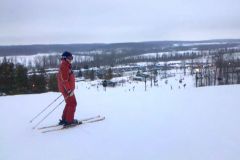 Ohio isn't really what comes to mind first when thinking about downhill skiing, but there it is: Mad River Mountain.
It's only about 2.5 hours of leisurely drive away from Fort Wayne, and there is a Comfort Inn in nearby Bellefontaine where you can bring a dog along. They have extra large rooms with a whirlpool, just what you need after a few hours out in the snow to relax the sore muscles.
01/01/2010
New Year's Eve is another chance to party with friends, and to carry on the family traditions. Like herring salad, and fireworks, and champagne at midnight, and watching 'Dinner for One' on TV, and melting lead to predict the future.

This year one of my pieces is clearly the mask of Zorro.
The other came in two parts, neither of which I recognize as anything in particular.
Now the question is:
what does the mask of Zorro mean for my new year?
Am I going to become the hero of impoverished Mexicans?
Or is this just a symbol for all my hidden talents, which I can use for the betterment of people's lives - once I get on my horse, grab my sword and go ride out into the darkness?
10/30/2009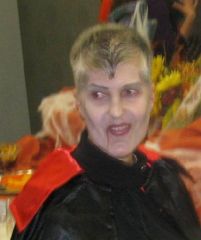 This year Halloween was on a Saturday, so no reason to spend an entire day in the office dressed up with a scary costume.
I got lucky though!
The invitation to Indiana Tech's 2010 Fund Drive kick-off party said 'feel free to come dressed in your favorite costume'. So I dressed in plain black for the day, and just threw on a cape and painted my face in time for the party.