10/31/2012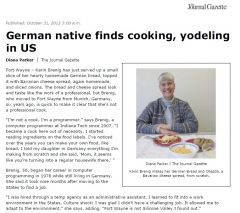 Today's Journal Gazette featured a half page article about me (!) in Diana Parker's "Cook's Corner". The article was based on an interview that I had given on Monday. Samples of my German bread and Obazda had been consumed and recipes compiled.
I found this very flattering, especially since I am absolutely not your typical housewife/cook. A lack of healthy, tasty food choices within local reach forced me to discover the hidden "chef" inside.
http://www.journalgazette.net/article/20121031/FEAT0107/3...
09/22/2012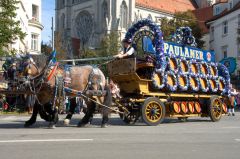 I won't make it in time to watch the parade, but that's OK - I've seen it over 30 times already. There will be plenty of opportunities for me to participate in the world's biggest party, hosted by the world's most beautiful big city, once I get there on Sunday.
You may wonder why somebody (like me) who went to München's Oktoberfest every year for the past half a century doesn't get bored with it. It's easy to explain:
where else can you make about 7,000 new best friends within a couple of hours?
07/28/2012
When I started teaching myself how to yodel, using a CD by Kerry Christensen "U 2 can yodel", I never thought that I would ever meet Kerry in person, much less sing a duet with him - but here we are, doing just that at the Swiss Days in Berne where Kerry performed and I was watching.

We had not practiced anything in preparation, and had talked about not doing anything spontaneous right before the show, but then some people in the audience insisted I go up there and be heard.
06/10/2012
Sometimes you just have to go with the flow and have fun! I know, the "Chicken Dance" is not a German tradition, stomping grapes is borderline, and dachshunds are not called "Wiener" anywhere in Germany.
The spelling error on the souvenir hat pretty much sums it all up for me.
Yes, we had fun; and we'll do it all over again next year!
05/12/2012
Some of you may remember the hedge apple I put in a pot last November.
http://karin-sadventures.blogspirit.com/archive/2011/11/1...
By now there is obvious visible progress! Several sprouts are coming out of the dirt over the baseball-sized, odd looking fruit that I buried last year and watered all winter long.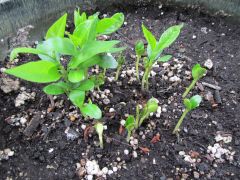 Once they get bigger I will plant the individual seedlings in separate small pots and grow them further. Eventually I hope to be able to start an osage orange hedge from these.