07/28/2012
When I started teaching myself how to yodel, using a CD by Kerry Christensen "U 2 can yodel", I never thought that I would ever meet Kerry in person, much less sing a duet with him - but here we are, doing just that at the Swiss Days in Berne where Kerry performed and I was watching.

We had not practiced anything in preparation, and had talked about not doing anything spontaneous right before the show, but then some people in the audience insisted I go up there and be heard.
06/10/2012
Sometimes you just have to go with the flow and have fun! I know, the "Chicken Dance" is not a German tradition, stomping grapes is borderline, and dachshunds are not called "Wiener" anywhere in Germany.
The spelling error on the souvenir hat pretty much sums it all up for me.
Yes, we had fun; and we'll do it all over again next year!
05/12/2012
Some of you may remember the hedge apple I put in a pot last November.
http://karin-sadventures.blogspirit.com/archive/2011/11/1...
By now there is obvious visible progress! Several sprouts are coming out of the dirt over the baseball-sized, odd looking fruit that I buried last year and watered all winter long.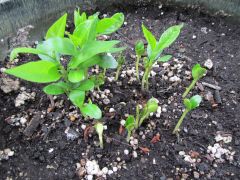 Once they get bigger I will plant the individual seedlings in separate small pots and grow them further. Eventually I hope to be able to start an osage orange hedge from these.
03/16/2012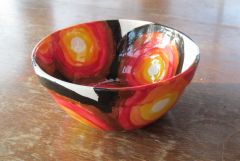 One of the reasons why I love my job is because it's not all about the job.
Our Creative Services Department organizes "surprise parties" about once a month during regular business hours.
If you are lucky, you may receive an invitation to participate in some fun, relaxing, entertaining activity other than your daily job. Last month I was invited to a "Pottery Painting Party". This awesome ice-cream bowl is my own artwork!
11/19/2011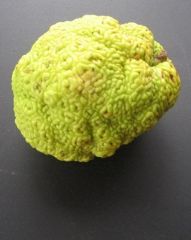 Today I found a plastic bag on the workbench in our garage. In it were half a dozen very strange looking, exotic, light-green, baseball size vegetables. I had never seen anything like that before.
Tom got them from a colleague at work. He said they are called hedge apples and supposedly help keep spiders and other insects out of your house, basement, or garage.
After doing a little research on this peculiar looking fruit I decided to plant one of them in a pot with some dirt and wait for an osage orange tree to grow from it. I'll keep you posted about the success - or failure - of this experiment.