12/31/2014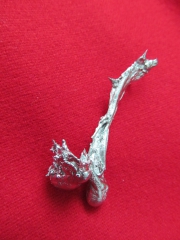 My New Year's Eve traditions include melting lead and telling the future by interpreting the strange objects that result from dropping the liquid metal into cold water.
According to this website http://www.bleigiessen.de/s/ the saxophone I got tells me to dare and simply improvise.
Given my sometimes overly perfectionist attitude, this is good advice!
03/24/2014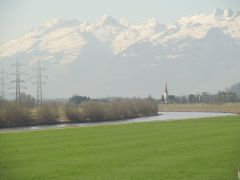 Officially, this was a business trip. I was assigned as a chaperon for the four female students in our tour group. The focus of the trip was on renewable energy in Germany and Switzerland, and the students were participating for credit applied to their degree in energy engineering.
I was lucky to be considered useful, translating language and culture. Even though I was being paid to work, it didn't feel like work at all. I learned things about my native country that were new to me. I got to visit places that I hadn't been to before.
Back home after only ten days, which seemed like a month or more, I felt invigorated and exhausted at the same time. Filled with joy and pain, knowing that I will always be split and torn between two worlds.
12/03/2013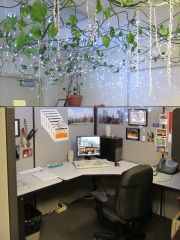 Christmas is coming upon us really quickly this year, probably because Thanksgiving was rather late.
I enjoy this time of the year! As the days are getting shorter, the evenings at home by the cozy fireplace get that much longer. The streets along my daily commute light up with everybody's attempts to top their neighbors' Holiday decorations, or at least top their own from last year.
The ceiling over my cubicle at work is the perfect place to hang up a net of little white LED lights, combine that with clear and silver plastic glitter strings, and create the impression of a winter wonderland floating above my head.
09/05/2013
Elections are coming up in Germany and I am signed up to cast my vote, via an absentee ballot in the mail.
There are a lot of choices, which makes it hard to decide which party will most closely represent my interests.
That is where the Wahl-O-Mat comes in handy! You answer 38 questions about current political points of interest. Your answers will be compared to the answers collected from 28 different parties participating in the election. After you go through the entire questionnaire, you will see how closely the different parties match your own opinions - and then go from there.
According to my results, I should vote for Piraten (the Pirates) and Grüne (the Green Party).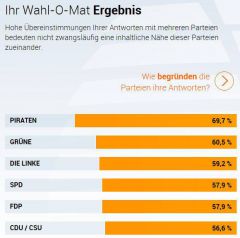 12/31/2012
New Year's Eve is a holiday laden with traditions. The ones I try to live are a mixture of what my family used to do, or what people do in Germany, or stuff that I just picked up from somewhere I don't even remember.
I need to eat herring salad, drink prosecco, watch "Dinner for One" just before midnight, then light some fire-crackers at midnight, and then melt lead first thing in the new year.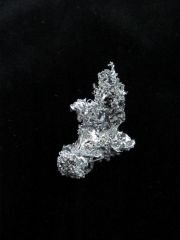 My piece of random lead art for 2013 looks like an eagle to me.
What do you think?