05/15/2015
I buy lots of things online. Amazon, ebay, websites all over the world...... because it's convenient, and sometimes the only way to get what I want.
On April 30th I ordered a small piece of hardware for my accordion from a shop in Germany. They notified me of the item being shipped on May 5th.
On May 9th I ordered a box of Haribo "Color-Rado" of Amazon, unaware of the fact that the seller, a "German-Store US", was going to send the item directly from Germany. Amazon notified me of the item being shipped on May 11th - along with two other items I had ordered on Amazon's website that same day.
When I found a FedEx tag on my door on Wednesday, May 13th, I was pretty sure that would be my accordion hardware. I signed the sticker and placed it back on the door to authorize FedEx to just leave it there the next day.
Thursday, May 14th, I came home and found three packages at my doorstep. All the items I had ordered on May 9th from Amazon arrived at the same day, via three different carriers from three different vendors. My accordion hardware was nowhere to be found.
Since the expected accordion hardware was missing, I opened a case with FedEx to investigate, maybe get a refund. They were going to follow up with me today.
That won't be necessary, though. We needed a small box and went through the recycle bin in the morning. The box that my Haribo candy came in was the right size - and it still had the packing slip on it..... shipped via FedEx, directly from Germany, the door-tag number matched.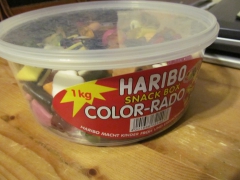 Now that was lightning-fast shipping! From Germany to my door within three days!? Signature required for a box of candy?!
Hopefully my accordion hardware will be in that envelop I'm supposed to go pick up at the post office today.
09/09/2014
Today was an exciting day at work!
Around 9:00 a.m. a colleague noticed some police action going on across the street. Within 15 minutes multiple police cars had blocked off Maumee Blvd. and armed men were swarming out around an old house. Some snipers had taken cover behind a transformer right outside our office window.
Indiana Tech issued a campus lockdown; everybody was ordered to stay inside whatever building they were in, or close to.
Three men came out of the house after another 15 minutes, their hands up in the air, and had to lie face down on their stomachs in the grass - with policemen standing over them pointing assault rifles at their heads.
Getting the remaining two suspects out took stronger measures. An armored vehicle arrived at the scene and fired a flash-bomb at the house they were hiding in. That must have scared the guys sufficiently; they came out and were apprehended too.
The incident was over about an hour after it began, we were given the
all-clear, and students were eager to give interviews and share their photos right away.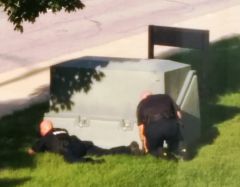 04/30/2013
I'm allergic to all kinds of airborne pollutants. Tree pollen, grass pollen, mold, dust mites, perfumes, chemicals.... which means that I spend about an hour of every day sneezing, coughing, or scratching my itchy eyes for no aparant reason.
Not a big deal, I'm used to that. I don't bother doing much against it either. Except this once. I thought, if we maybe change the cabin air filter in our van, I might cough a little less while I'm driving. The van is a 2000 Ford Windstar. It still had the original factory installed cabin air filter in there. The full 12 years' worth of grimy dust, dead bugs, and other gross things.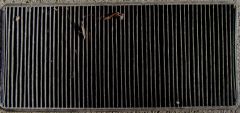 10/15/2012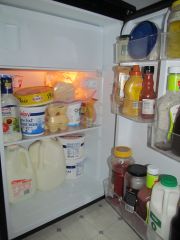 Without warning our refrigerator in the kitchen quit working. I noticed it Sunday morning, when I started preparing breakfast. The incident, while not a tragedy, forced me to think about a commonplace appliance that I usually don't waste a thought on.
I remembered hearing about a recent study that revealed one unexpected possible reason for the obesity epidemic in the US: Barry Popkin, a professor in the school of public health at the University of North Carolina at Chapel Hill, notes that the growing scale of home appliances enables families to stockpile convenience foods that minimize their time in the kitchen. The trend breads a culture of excess in which we buy more, eat more, and waste more, than ever before.
My refrigerator in Germany was huge, for German standards: 12 ft.³
My parents have a more reasonable one in their house: 7 ft.³ is considered a normal size for two people in Germany. The one that we just bought is the same size that we had: 21.7 ft.³ which is the current average in the US.
Just for a little while, until the new refrigerator is delivered, I'll have to exercise modesty and see how much food can be stored in the 4.4 ft.³ that we have in our bar in the basement.
02/12/2012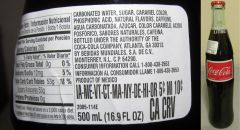 If you are concerned about your health and watch what you eat or drink, pop is off limits. Since today's selection of softdrinks doesn't even taste as good as it did when I was young, I find it easy to resist.
I don't like the artificial, chemical, gross aftertaste of Coke and similar beverages. The only reason why I would sometimes buy Coke is for medicinal purposes. The acid in it helps an occasional upset stomach, so you want to have some on hand just in case.
Today we found this rare treasure in the international section of our grocery store: Coke made in Mexico, without corn syrup! This stuff comes in half liter glass (!) bottles with a pry-off cap, and it says "sugar" on the label. One bottle costs $1.69 and it's worth every penny of that. I might have to fake an upset stomach here pretty soon.