12/05/2015
Fedex delivered a small package today from Google. Lego bricks, a USB cable, and instructions how to build either a "phone stand" or a "cable tidy" out of the Legos.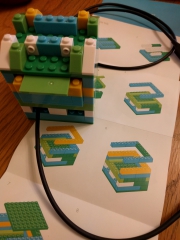 That really was a nice surprise! Verizon never did anything like that to maybe show that they value their customers.
I built the cable box out of my legos, adding the leftover parts onto the top for decoration.
06/07/2015
I have been active on the internet since 1998, doing things that seemed crazy geeky at the time.
Like video-chatting with people on the other side of the globe. I used Netmeeting on Microsoft's IRL servers. My Skype account was created as soon as they released their first public beta version, some time in late 2003. Being an early adopter can have advantages! For Skype this means my profile is somehow frozen in time.
It can't be changed. It can't be edited. It doesn't get flooded with junk contact requests from scammers, spammers, bots and crooks. A few years ago, when I moved to the US, I thought I should maybe update my personal details - but it never worked.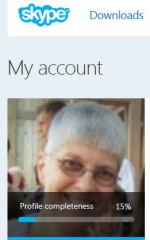 The only things that I can change are the profile picture, and the password. Everything else doesn't seem to get saved.
No first name, no last name, no gender, no birthdate, no address, no language; whatever minimal information I entered back in 2003 is going to be all there is for the rest of my life. Skype thinks I live in Germany and I pay in Euros.
I was crazy enough to try getting that "fixed" and emailed back and forth for a while with their customer support. That was really funny! They had absolutely no clue. I had a feeling they didn't even understand, what my "problem" was.
Now I am happy about the fact, that I can "hide" my identity - at least with Skype - and be 85% unknown. It's a bit of a privilege, like my Yahoo! email account, registered in 1999, without a phone number.
05/15/2015
I buy lots of things online. Amazon, ebay, websites all over the world...... because it's convenient, and sometimes the only way to get what I want.
On April 30th I ordered a small piece of hardware for my accordion from a shop in Germany. They notified me of the item being shipped on May 5th.
On May 9th I ordered a box of Haribo "Color-Rado" of Amazon, unaware of the fact that the seller, a "German-Store US", was going to send the item directly from Germany. Amazon notified me of the item being shipped on May 11th - along with two other items I had ordered on Amazon's website that same day.
When I found a FedEx tag on my door on Wednesday, May 13th, I was pretty sure that would be my accordion hardware. I signed the sticker and placed it back on the door to authorize FedEx to just leave it there the next day.
Thursday, May 14th, I came home and found three packages at my doorstep. All the items I had ordered on May 9th from Amazon arrived at the same day, via three different carriers from three different vendors. My accordion hardware was nowhere to be found.
Since the expected accordion hardware was missing, I opened a case with FedEx to investigate, maybe get a refund. They were going to follow up with me today.
That won't be necessary, though. We needed a small box and went through the recycle bin in the morning. The box that my Haribo candy came in was the right size - and it still had the packing slip on it..... shipped via FedEx, directly from Germany, the door-tag number matched.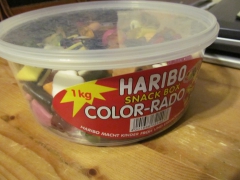 Now that was lightning-fast shipping! From Germany to my door within three days!? Signature required for a box of candy?!
Hopefully my accordion hardware will be in that envelop I'm supposed to go pick up at the post office today.
09/09/2014
Today was an exciting day at work!
Around 9:00 a.m. a colleague noticed some police action going on across the street. Within 15 minutes multiple police cars had blocked off Maumee Blvd. and armed men were swarming out around an old house. Some snipers had taken cover behind a transformer right outside our office window.
Indiana Tech issued a campus lockdown; everybody was ordered to stay inside whatever building they were in, or close to.
Three men came out of the house after another 15 minutes, their hands up in the air, and had to lie face down on their stomachs in the grass - with policemen standing over them pointing assault rifles at their heads.
Getting the remaining two suspects out took stronger measures. An armored vehicle arrived at the scene and fired a flash-bomb at the house they were hiding in. That must have scared the guys sufficiently; they came out and were apprehended too.
The incident was over about an hour after it began, we were given the
all-clear, and students were eager to give interviews and share their photos right away.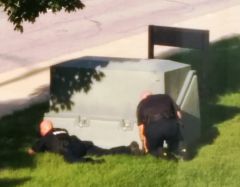 04/30/2013
I'm allergic to all kinds of airborne pollutants. Tree pollen, grass pollen, mold, dust mites, perfumes, chemicals.... which means that I spend about an hour of every day sneezing, coughing, or scratching my itchy eyes for no aparant reason.
Not a big deal, I'm used to that. I don't bother doing much against it either. Except this once. I thought, if we maybe change the cabin air filter in our van, I might cough a little less while I'm driving. The van is a 2000 Ford Windstar. It still had the original factory installed cabin air filter in there. The full 12 years' worth of grimy dust, dead bugs, and other gross things.