01/06/2012
Most years I don't have a specific resolution to change anything - because I like everything the way it is. This year is different. When you have to hold your breath to be able to zip up your pants, it's time to lose some weight.
I don't know if it is due to my age, or the country I live in, but lately I'm holding my breath way too often.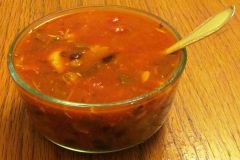 So here is my official New Year's Resolution for 2012:
By April 10th I will weigh 10 lbs. less than on January 1st. The diet I will use to reach this goal has to be very easy to follow.
I have absolutely no extra time for complicated shopping lists and special designer recipes.
My plan is simple. Breakfast will stay as it is with yoghurt, fruit, Müsli, and coffee. Lunch will be a bowl of this awesome soup made with lean meat and lots of vegetables. Supper will be soup again, or maybe a whey protein shake. I will keep up my current exercise routine and cut down drastically on snacks between meals.
11/30/2011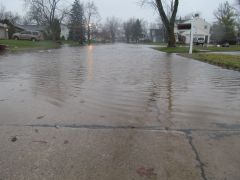 It started yesterday with over two inches of rain that turned our road into a river. As the day went on the rain became hail, sleet, slush, then snow.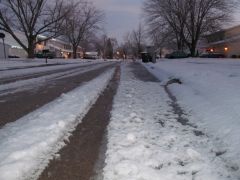 Over five inches of that resulted in chaotic traffic conditions, fallen trees, power outages, and a 32 hour shift for Tom and his colleagues.
11/20/2011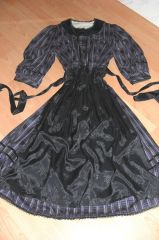 Online auctions are my favorite way of shopping. If you know how to do it right you can find really good deals on fancy stuff that nobody else has - and it isn't made in China either.
When I look for interesting items I search for auctions ending within 48 hours, with less than 10 bids posted, and at a price that I consider a bargain. Then I bookmark that item and set myself an alarm for 10 minutes before the auction ends.
At that time I check the listing to see if the price is still reasonable, and if it is I just sit there watching the timer count down. When the count-down falls below 2 minutes I type my absolutely highest maximum price in, but I don't bid yet.
As soon as the timer shows less than 1 minute I click 'bid' and then 'confirm' right away. This will post my bid within 30 seconds of the auction's end - too late for anybody else to bid again.
06/20/2011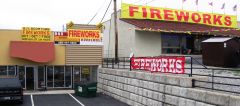 The ongoing recession left Fort Wayne with lots of unoccupied retail space, which is now temporarily put to some use by dozens of fireworks sales in preparation of the 4th of July. We will save our money, though. The best place to watch Independence Day fireworks is on top of IPFW's parking garage. Pay $5 and enjoy!
05/19/2011
Everybody, including myself, has been waiting for some really nice spring weather to finally come along. So far there is no such luck. It's too cold for the season, and too wet. I rode my motorcycle to work only once this year.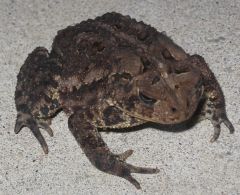 At least one species doesn't seem to mind, though. This little guy was sitting on our front porch today, while our dog tried to break through a window to get out there and catch a toad for breakfast.