06/20/2011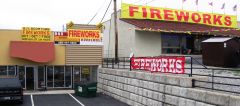 The ongoing recession left Fort Wayne with lots of unoccupied retail space, which is now temporarily put to some use by dozens of fireworks sales in preparation of the 4th of July. We will save our money, though. The best place to watch Independence Day fireworks is on top of IPFW's parking garage. Pay $5 and enjoy!
05/19/2011
Everybody, including myself, has been waiting for some really nice spring weather to finally come along. So far there is no such luck. It's too cold for the season, and too wet. I rode my motorcycle to work only once this year.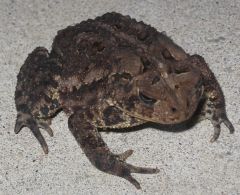 At least one species doesn't seem to mind, though. This little guy was sitting on our front porch today, while our dog tried to break through a window to get out there and catch a toad for breakfast.
02/22/2011
Last weekend we received another recall notice from Ford Motor Company. The third of its kind for our old Windstar van. This time it was for corrosion issues with the front axle that could cause the wheels to just break off the car.
On a vehicle that was built in 2000 I would expect anything to fail at any time for any reason. If that happened to me, I would just consider it bad luck and decide whether I want to pay for the repairs, or ditch the old junker. Not so in the USA, where companies can loose millions of dollars in a lawsuit because one of their products failed and somebody got hurt. Which is why manufacturers recall thousands of cars as soon as they learn about a potential problem.
On the previous two occasions our van passed the inspection, but this time it didn't. The repair shop doesn't even have the parts in yet, so while we are waiting, we get a free rental car. I'd hate to be Ford right now! Can you imagine thousands of customers, all of them getting free loaners with full coverage insurance for weeks or months, and free major repairs on their own cars that are over ten years old?
Anyways, meet our (temporary) new ride: 2011 Toyota RAV4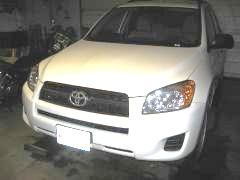 02/09/2011
When I came into Zollner in the morning I noticed some kind of electrical fire smell. I didn't think much of it, because we have several labs in the basement were students do all kinds of experiments and we've had some peculiar smells coming from down there before.
I assumed there was a chemistry class going on.

Then I saw colleagues from the buildings and grounds department standing in the hallway, discussing something, and just assumed they had been notified about the smell and were going to fix it. When the fire alarm went off half an hour later, I assumed that my colleagues had resolved the issue and were now testing the alarm to make sure everything worked.

Boy, was I wrong!
This was a real fire alarm, triggered by the batteries in our UPS exploding in the basement, pouring acid all over the cabinet. The fire department came to our rescue and we resumed work half an hour later.
Never assume!
12/28/2010
Today I went and had a new piece of gold put into one of my teeth, replacing the old inlay that had been showing signs of decay growing under it for almost a year now. I had to wait for such a long time because I needed to save money to pay for this dental service.
Comparing today's price to what it cost for that same tooth to be filled with gold twenty years ago - about $50 out of my pocket plus $150 from my insurance - explains why I see so many people with lousy teeth in this country.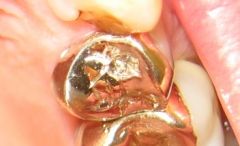 Here's what you can buy for $468, if you have insurance and a coupon (?!) from your dentist. Otherwise prepare to lay out $1,136 for 5 grams of gold.