01/01/2012
To some New Year's Eve may just be a date on the calendar. The people of Samoa didn't consider this date anything special, so they just skipped it to join Australia's time zone. To me, however, the last day of a year has magical importance. What I do on that date, and how I spend the time around midnight, determines how my next year will go. Or maybe it doesn't, but I enjoy entertaining the thought that it might.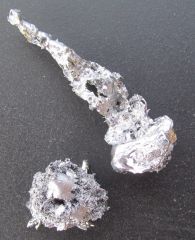 My New Year's Eve traditions include eating herring salad, drinking champagne at midnight, lighting fire crackers, watching "Dinner for One", melting lead, and (for the first time this year) wearing something red and something gold.
Most of the times I understand what my lead objects are trying to tell me, but this year I haven't a clue? Not to worry though, I still have all year to get that figured out.
What do you think these are?
07/26/2011
One reason to have a German bank account is the convenience and security provided with their online banking. Doing your own ACH wire transfers to any account in the world is a feature that most bank customers in the USA don't even ask for - because the eye can't see what the mind doesn't know.
Currently online banking transactions in Germany are secured using the iTAN method: you receive a list of TANs from your bank in the mail. Whenever you initiate a transaction online you will be asked to provide one TAN from the list. Each TAN can only be used once. If somebody happened to know your bank, your account number, the routing number, your online banking password, and get a hold of your TAN list, they could empty out your bank account.
Several banks have now implemented the new, more secure, chipTAN technology - I am impressed!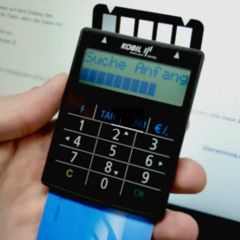 I had the opportunity to see the new technology in action on a real live wire transfer. Here's how it works: You purchase a small box, the code sender. Once you register that device online, activate your bank account for use with chipTAN and insert the chip card (EC card) that is assigned to your bank account into the device, you're ready to generate your own TANs on the fly.
After you enter the details for a banking transaction you will be instructed to hold your code sender up to a flickering graphic on your computer screen. The transaction details will be shown on the sender and after you confirm accuracy a TAN will be displayed. Type that into the application on your computer, hit submit - done. Now crooks would need to get a hold of your chip card and the TAN generator in addition to all the other details to gain access to your account. That's highly unlikely.
01/01/2011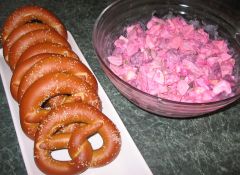 The end of an old year and the beginning of a new year means plenty of opportunities to celebrate and carry on the traditions.
New Year's Eve calls for herring salad and home made pretzels, which I brought to our friends' party. Lighting off some fire crackers around midnight is also a must. Then watching 'Dinner for One' is a fun German tradition, which I can still enjoy, thanks to the internet.
We got home around 3:00 a.m., tired, happy, and well fed. 2011 just waited long enough for us to melt some lead and see what the future holds. My two objects are clearly recognizable as me, flying a kite.

I have no clue what that means for my new year, though.
Any suggestions?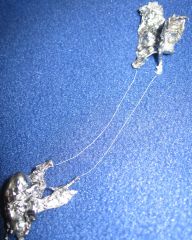 12/18/2010
I am not a member of any church, nor do I think it matters whether the story about this single mother giving birth to her son some two thousand years ago around this date is true or not, but I really enjoy the traditions around the Christmas Holidays. It's fun to set up a tree and decorate it while you're listening to romantic music and drinking Glühwein.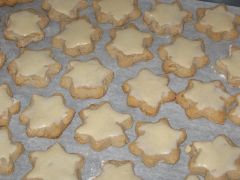 I love to come home to the smells of pine needles and freshly baked cinnamon star cookies. This year I tried a new recipe that I found on the internet. It calls for only five ingredients (almonds, powdered sugar, egg whites, cinnamon, lemon juice) and the results are simply awesome.
04/09/2010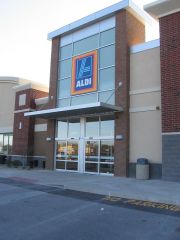 When homesickness hits there is a cure available at the grocery store, if you are lucky enough to have an ALDI within reach. Today was the grand opening of a new ALDI store just about three miles from my home. Of course I couldn't miss that!
Indulge in renting your grocery cart: you have to stick a quarter in to release the cart from its chain.
Also remember to bring your own shopping bags, baskets, or boxes, if you don't want to lower yourself to purchasing plastic bags. You can leave your credit cards and coupons at home - they accept cash or debit card only for payment, and they don't honor coupons.
Our new store features the typical dextrogyrated ALDI Süd style setup, which makes it feel even more like home. We spent $38 and walked out with a cart full of groceries. Next time we go there they will hopefully have their liquor license and we'll be able to purchase wine and beer there too.