12/03/2013
'tis the season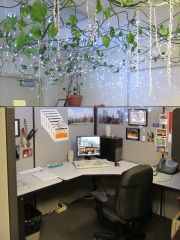 Christmas is coming upon us really quickly this year, probably because Thanksgiving was rather late.
I enjoy this time of the year! As the days are getting shorter, the evenings at home by the cozy fireplace get that much longer. The streets along my daily commute light up with everybody's attempts to top their neighbors' Holiday decorations, or at least top their own from last year.
The ceiling over my cubicle at work is the perfect place to hang up a net of little white LED lights, combine that with clear and silver plastic glitter strings, and create the impression of a winter wonderland floating above my head.