01/01/2011
New Year Traditions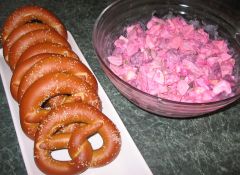 The end of an old year and the beginning of a new year means plenty of opportunities to celebrate and carry on the traditions.
New Year's Eve calls for herring salad and home made pretzels, which I brought to our friends' party. Lighting off some fire crackers around midnight is also a must. Then watching 'Dinner for One' is a fun German tradition, which I can still enjoy, thanks to the internet.
We got home around 3:00 a.m., tired, happy, and well fed. 2011 just waited long enough for us to melt some lead and see what the future holds. My two objects are clearly recognizable as me, flying a kite.

I have no clue what that means for my new year, though.
Any suggestions?