04/09/2010
new ALDI closer to home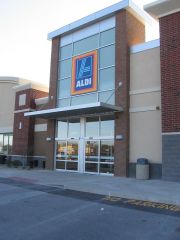 When homesickness hits there is a cure available at the grocery store, if you are lucky enough to have an ALDI within reach. Today was the grand opening of a new ALDI store just about three miles from my home. Of course I couldn't miss that!
Indulge in renting your grocery cart: you have to stick a quarter in to release the cart from its chain.
Also remember to bring your own shopping bags, baskets, or boxes, if you don't want to lower yourself to purchasing plastic bags. You can leave your credit cards and coupons at home - they accept cash or debit card only for payment, and they don't honor coupons.
Our new store features the typical dextrogyrated ALDI Süd style setup, which makes it feel even more like home. We spent $38 and walked out with a cart full of groceries. Next time we go there they will hopefully have their liquor license and we'll be able to purchase wine and beer there too.