07/26/2011
next generation security: chipTAN
One reason to have a German bank account is the convenience and security provided with their online banking. Doing your own ACH wire transfers to any account in the world is a feature that most bank customers in the USA don't even ask for - because the eye can't see what the mind doesn't know.
Currently online banking transactions in Germany are secured using the iTAN method: you receive a list of TANs from your bank in the mail. Whenever you initiate a transaction online you will be asked to provide one TAN from the list. Each TAN can only be used once. If somebody happened to know your bank, your account number, the routing number, your online banking password, and get a hold of your TAN list, they could empty out your bank account.
Several banks have now implemented the new, more secure, chipTAN technology - I am impressed!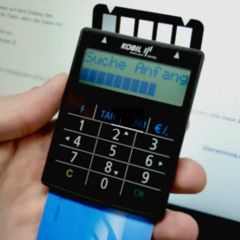 I had the opportunity to see the new technology in action on a real live wire transfer. Here's how it works: You purchase a small box, the code sender. Once you register that device online, activate your bank account for use with chipTAN and insert the chip card (EC card) that is assigned to your bank account into the device, you're ready to generate your own TANs on the fly.
After you enter the details for a banking transaction you will be instructed to hold your code sender up to a flickering graphic on your computer screen. The transaction details will be shown on the sender and after you confirm accuracy a TAN will be displayed. Type that into the application on your computer, hit submit - done. Now crooks would need to get a hold of your chip card and the TAN generator in addition to all the other details to gain access to your account. That's highly unlikely.