01/01/2012
Keep the Traditions Alive!
To some New Year's Eve may just be a date on the calendar. The people of Samoa didn't consider this date anything special, so they just skipped it to join Australia's time zone. To me, however, the last day of a year has magical importance. What I do on that date, and how I spend the time around midnight, determines how my next year will go. Or maybe it doesn't, but I enjoy entertaining the thought that it might.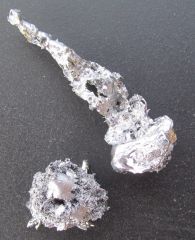 My New Year's Eve traditions include eating herring salad, drinking champagne at midnight, lighting fire crackers, watching "Dinner for One", melting lead, and (for the first time this year) wearing something red and something gold.
Most of the times I understand what my lead objects are trying to tell me, but this year I haven't a clue? Not to worry though, I still have all year to get that figured out.
What do you think these are?