03/01/2013
Crunchy, spicy, juicy, fat-free..... pickles are on my list of favorite snacks. Until just a few days ago I also thought pickles were a healthy snack. Then I read the ingredients list on a pickle jar. Among a collection of chemicals there was yellow 5, a substance that I had recently read horrible things about.
I don't want to eat that stuff, if I can avoid it. So I went through the entire selection of pickles in the store to find a brand that doesn't have yellow 5 in it. I found that in the German section, at a price of around $5 per jar. That's too expensive.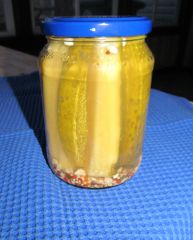 What do you do if you can't buy something? There are always two options: learn to do without, or learn to make your own.
In the case of pickles, making your own is really easy, fun, and inexpensive. I'll make sure I always keep a jar of pickles handy, just in case you'd stop by and want to taste natural, healthy pickles.
01/19/2013
This month our 2-year contract with Comcast for their "Triple Play" (internet, home phone, TV with all the extras) ended and the price was going up a lot. We are in no way able to pay that much for services that we consider nice to have, but not essential.
Reducing the TV part of the package back to just basic cable, which still contains about 50 different channels, was relatively easy, but it didn't give us much of a savings - just taking the total price back down to about the same that we had been paying for the past two years.
Doing a little research, though, revealed an awesome way to save a considerable amount of money without losing any benefits: replace Comcast's home phone service with OOMA.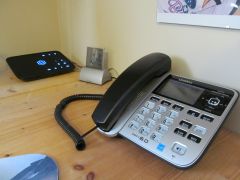 Now I have this pretty little black box with fancy blue lights on it sitting on my desk. We pay $3.73 a month (which is all taxes) and get the finest voice-over-IP available. CallerID, answering machine, free calls to the entire US.
07/25/2012
Our first apple tree didn't live very long. About a year after we had planted it our dog ran across the yard, in pursuit of a rabbit, tripped over the ropes we had attached to the tree to keep it growing straight, and broke the thin stem off right above the point where the tree had been inoculated.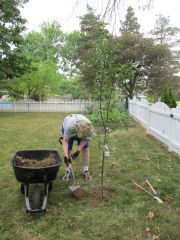 This year the timing was perfect to try again!
Trees were on sale at Menards. We went and bought two Zestar apple trees and Tom planted them in the backyard, carefully picking the location, considering where our dog would not run.
These trees will be allowed to grow crooked, if they like.
05/08/2012
Whenever we do something for the very first time there is this exciting mixture of anticipation and anxiety, no matter how much we tried to educate ourselves about the process and the expected outcome. Casting my first vote in a US primary elections as a citizen was no different in that respect.
Political campaigns in the US are more about personalities of individual candidates and not so much about factual party programs. It also seems that I have less choices available to vote for than in Germany. The biggest difference, in my opinion, is the fact that a person can become the President of the United States without earning a majority of people's votes.
Organization of the election itself is different too. In the US you will not receive an invitation in the mail, telling you about an upcoming election and reminding you of your polling station's location. You will not receive any information about what to do in case you're not able to show up at your polling station. Elections in the US are always held on a Tuesday, not on a Sunday like in Germany. You don't use a pencil on paper to make your selections either, votes are cast on mobile computer terminals.
Just like most my previous "first times" this one wasn't all that exciting either. The lack of candidates whom I could wholeheartedly vote for forced me to make sure I voted against some that I really don't want to see in office. In the end the result may be the same either way, but at least I participated.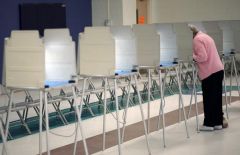 01/22/2012
In Germany it's the law. If you're caught driving in winter conditions without snow tires, you'll be fined. But even before it became law, everybody I knew had two sets of wheels for their cars. One with summer tires and one with winter tires mounted. Twice a year everybody would switch wheels on their cars.
Winters in Indiana are just as bad, or maybe even worse, as the ones I saw in Germany, but hardly anybody puts snow tires on in winter.
All-season radials and maybe 4-wheel drive seems to be the way to go.
With our van, which is quite heavy, that idea has been working OK so far, even without the 4-wheel drive. But the Elantra, engineered for fuel efficiency and light-weight, turned out to be almost impossible to handle on just a little bit of snow.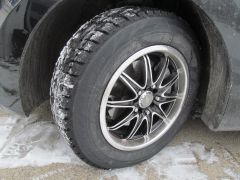 The solution to this problem is easy: get some stylish new rims with excellent snow tires mounted, and voilá! - driving is fun again.