07/25/2012
Try again
Our first apple tree didn't live very long. About a year after we had planted it our dog ran across the yard, in pursuit of a rabbit, tripped over the ropes we had attached to the tree to keep it growing straight, and broke the thin stem off right above the point where the tree had been inoculated.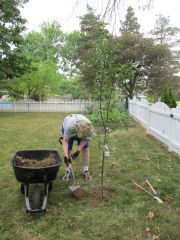 This year the timing was perfect to try again!
Trees were on sale at Menards. We went and bought two Zestar apple trees and Tom planted them in the backyard, carefully picking the location, considering where our dog would not run.
These trees will be allowed to grow crooked, if they like.