01/09/2012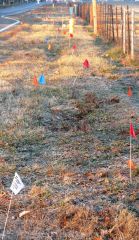 One of my earliest 'culture shock' experiences in the US was when I first noticed locate flags alongside a road. I had no idea, what they were for and who put them there. My guess was they were remnants of a child's birthday party involving some kind of treasure hunt.
When I learned that an entire industry of utility locators is busy year round marking the location of underground cables and pipes with these little flags every time somebody wants to dig more than a foot deep, I found it hard to believe.

I admit I never paid much attention to the markers that are permanently installed all over Germany to tell you exactly where cables and pipes run underground, which is probably the reason why I didn't notice their absence in my new home town immediately.
12/18/2011
Our house came with an open fireplace built in 1969. The unlined, uncovered chimney hadn't been swept in years. You could see a crack in the bricks from inside the garage. To make this at least usable we had the minimum of repairs done and burned logs only occasionally, always worried about setting the house on fire.
This year we decided to give ourselves a Christmas present. We had a wood-burning fireplace insert installed, vented through a stainless steel liner in the chimney. Our new EPA certified fireplace insert is rated over 75% efficiency and provides the added benefit of reducing our emissions to almost zero.
Here's to long, cold winter nights, sitting by the fireplace and drinking Glühwein!
05/15/2010
We enjoy sitting out on the patio in the evenings, listening to the birds sing, watching the sun set, having a cold drink, and relaxing. In past years there was one unpleasant detail, though - millions of mosquitos, all honing in on me to have dinner.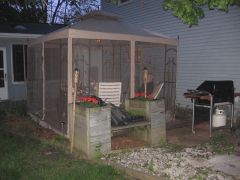 This summer the bugs will go hungry. We bought a steel gazebo, with netting all around it, and spent three hours today, setting it up in our back yard. Of course we also had to try it out with some hamburgers and bratwurst on the grill later on. It works to perfection!
03/20/2009
I had seen the typical US workplace environment in TV-shows and movies. *Office Space* comes to mind, with rows of little, dead, grey cubicles where frustrated workers go about their dreadful jobs. When I first entered my cube at Indiana Tech, it looked just like that: grey and dead.
I decided to bring some life to my cube and bought a small philodendron. As soon as the plant's branches grew long enough I strung them up along the ceiling panels above my desk. By now the area over my head looks a bit like a jungle, and it's not done growing yet.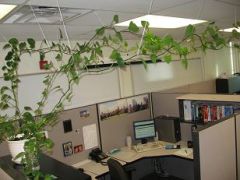 12/06/2008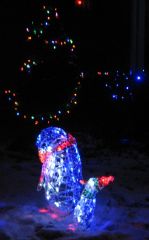 We add a little bit of something to our Christmas lighting every year. This time we bought a pair of penguines and a string of blue lights. Snow was falling almost all day long today, which was the perfect weather to decorate our house.
We use only LED lights, so the energy consumption is negligible. The penguines added 4 Watts for a total of 16 Watts of Christmas decoration.