06/04/2016
Today I volunteered to help Suin and Lee, professors of German at IPFW, with their brilliant "German on the Spot" event at the local public library. People could drop in with any old document, postcard, letter, photo... written in German that they had always wondered what it said on there.
My (only slightly rusty) skills acquired 1965 in fourth grade in Germany - reading and writing Sütterlin-/Kurrentschrift - came in handy to decipher faded handwriting. The personal touch, reading snippets about people's lives, makes history enjoyable and interesting.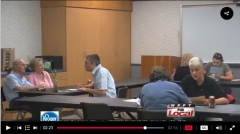 The event was covered by local media
07/30/2015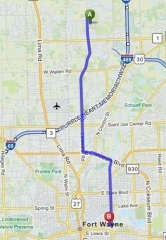 Weather permitting, I enjoy riding my motorcycle to work. Six years ago, when I first purchased my Honda Shadow Aero cruiser, the shortest distance was also the best way to go. My ride took me about 25 pleasant minutes along 9 miles of easy going, even scenic, city roads.
Harsh winters, cheaply built roads, mismanaged city budget, lacking maintenance, careless "patching", quick and dirty "resurfacing", increased traffic, construction projects, and water main breaks, have since taken a toll on road conditions.
Some streets are closed, some have lane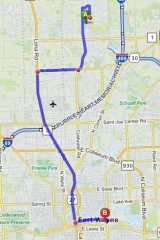 restrictions, many are in dangerous disrepair. The asphalt is cracked, riddled with potholes or patches, covered with sand, gravel, debris - not funny, if you travel on only two wheels.
So, in my attempt to pick the safest route to work, I was forced to add 3.5 miles and 15 minutes to my daily commute - each way, of course. For most of it I am now driving amidst dense traffic with frequent periods of stop-and-go.
01/25/2015
One big part of my life in Munich was the weekly visit to a nearby public swimming pool where I would spend at least an hour in the sauna for two rounds of sweating, swimming a few laps in between.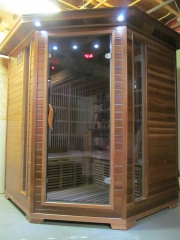 26% of Germans fourteen and older visit one of the 2,300 public saunas, or 5,400 hotel saunas, or 3,800 fitness center saunas, or 1.7 million saunas in private homes, once a week or more.
While there are some public saunas in Fort Wayne, those really aren't enough to cover my wellness needs. The temperature is too low; they force you to wear textiles (or at least wrap yourself in a towel); space is very limited, and the wood is dirty from years of abuse in most cases.
People walk into those places fully clothed, some with gym shoes on; they sit on the benches wearing dripping wet bathing suits, without putting a towel underneath; they apply conditioner to their damp hair, rub lotion all over their body, or even change into their street clothes in the sauna.
After years of talking about putting a sauna in our house, we finally got around to doing that.
Life is good!
07/03/2014
In February 2011 the Fort Wayne Board of Public Works approved a resolution to preserve a limited number of brick roads adjacent to historic districts. I didn't even know that Fort Wayne had brick roads until the past long and harsh winter revealed a small section of red brick under crumbling asphalt on my way to work.
I was intrigued by the prospect of learning more about the history of my home town and researched the location of those roads that should be preserved and maintained in their original state. Today we were allowed to leave work early, and I took my camera along a scenic tour of the historic brick roads in the West Central neighborhood.
While it is wonderful to see that history is still alive, it is also saddening to see that the city isn't doing a very good job in maintaining and preserving it. The houses in that area are in bad shape, you wouldn't want to explore there after dark. The predominant feature in West Central is the disheartening sight of the abandoned General Electric plant on the east end, closely followed by the overwhelming chemical stench coming from the Essex plant on the west end of the area.
04/06/2014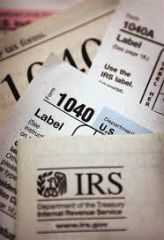 Even though we're getting better at this, it doesn't seem to get any easier. Over two hours spent, using specialized software to produce a book over 50 pages thick for federal, and another booklet with 15 pages for the state tax return - just to find out what we already knew - we owe.
Why does this have to be so much work?
I used to complain about the "complexity" of income tax preparation in Germany - now I wish tax preparation in the US was that easy.