01/22/2012
Snow Tires
In Germany it's the law. If you're caught driving in winter conditions without snow tires, you'll be fined. But even before it became law, everybody I knew had two sets of wheels for their cars. One with summer tires and one with winter tires mounted. Twice a year everybody would switch wheels on their cars.
Winters in Indiana are just as bad, or maybe even worse, as the ones I saw in Germany, but hardly anybody puts snow tires on in winter.
All-season radials and maybe 4-wheel drive seems to be the way to go.
With our van, which is quite heavy, that idea has been working OK so far, even without the 4-wheel drive. But the Elantra, engineered for fuel efficiency and light-weight, turned out to be almost impossible to handle on just a little bit of snow.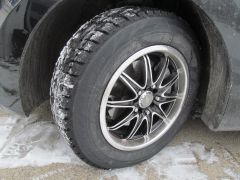 The solution to this problem is easy: get some stylish new rims with excellent snow tires mounted, and voilá! - driving is fun again.