01/06/2012
100 Days of Soup
Most years I don't have a specific resolution to change anything - because I like everything the way it is. This year is different. When you have to hold your breath to be able to zip up your pants, it's time to lose some weight.
I don't know if it is due to my age, or the country I live in, but lately I'm holding my breath way too often.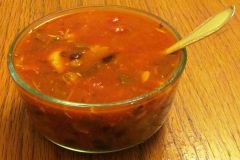 So here is my official New Year's Resolution for 2012:
By April 10th I will weigh 10 lbs. less than on January 1st. The diet I will use to reach this goal has to be very easy to follow.
I have absolutely no extra time for complicated shopping lists and special designer recipes.
My plan is simple. Breakfast will stay as it is with yoghurt, fruit, Müsli, and coffee. Lunch will be a bowl of this awesome soup made with lean meat and lots of vegetables. Supper will be soup again, or maybe a whey protein shake. I will keep up my current exercise routine and cut down drastically on snacks between meals.