01/09/2012
Call before you dig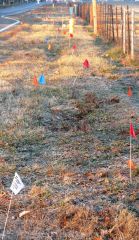 One of my earliest 'culture shock' experiences in the US was when I first noticed locate flags alongside a road. I had no idea, what they were for and who put them there. My guess was they were remnants of a child's birthday party involving some kind of treasure hunt.
When I learned that an entire industry of utility locators is busy year round marking the location of underground cables and pipes with these little flags every time somebody wants to dig more than a foot deep, I found it hard to believe.

I admit I never paid much attention to the markers that are permanently installed all over Germany to tell you exactly where cables and pipes run underground, which is probably the reason why I didn't notice their absence in my new home town immediately.