11/19/2011
The Hedge Apple Experiment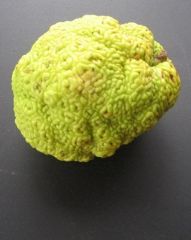 Today I found a plastic bag on the workbench in our garage. In it were half a dozen very strange looking, exotic, light-green, baseball size vegetables. I had never seen anything like that before.
Tom got them from a colleague at work. He said they are called hedge apples and supposedly help keep spiders and other insects out of your house, basement, or garage.
After doing a little research on this peculiar looking fruit I decided to plant one of them in a pot with some dirt and wait for an osage orange tree to grow from it. I'll keep you posted about the success - or failure - of this experiment.