10/30/2011
Making a Jack-o-Lantern
As the year winds down towards winter there are more opportunities to take advantage of the natural ambience and be creative, yet traditional.
Even Halloween, with its over-commercialized candy madness, offers a more spiritual side for us old-fashioned people.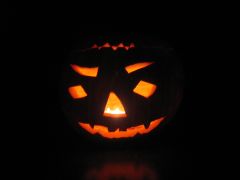 The tradition of carving a lantern started in the British Isles around the 1800s. However, it was traditionally sliced out of a turnip.
They were created
on All Hallows' Eve and left on the door step to ward off evil spirits.
An offering or, as we now know it, a "treat", would also be commonly left to placate roaming spirits - otherwise they might 'fiddle' with property or livestock (play a "trick").
Once the tradition moved to the US, it was adapted to the carving of a pumpkin as these vegetables were more readily available, bigger and easier to carve.