10/25/2013
no Alcohol, please!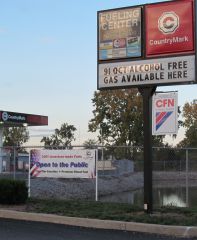 Just because some type of fuel is "renewable" doesn't necessarily mean it's also "good".
Prompted by the special needs of the latest addition to our fleet of vehicles, a beautiful BMW R1200RT, which requires gasoline with a 90 octane or higher rating, I educated myself on the effects of ethanol added to fuel.
In short: it's not good!
Ethanol attracts water, which then damages whatever engine is running on it. Ethanol also dissolves the softeners used in many plastic parts, tubes, and seals in our machinery. The production of ethanol creates more greenhouse gas and wastes more water than the production of gasoline.
Those 10% of ethanol added to most of the fuel available in the USA are the reason why carburators, fuel pumps, and engines get clogged up, need frequent oil changes, don't last as long, and run less efficiently.
Finding alcohol-free gas is not easy, though! There is only one source in Fort Wayne. A gallon of the precious stuff currently costs $3.959 there.