02/12/2012
The Lesser Evil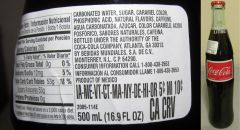 If you are concerned about your health and watch what you eat or drink, pop is off limits. Since today's selection of softdrinks doesn't even taste as good as it did when I was young, I find it easy to resist.
I don't like the artificial, chemical, gross aftertaste of Coke and similar beverages. The only reason why I would sometimes buy Coke is for medicinal purposes. The acid in it helps an occasional upset stomach, so you want to have some on hand just in case.
Today we found this rare treasure in the international section of our grocery store: Coke made in Mexico, without corn syrup! This stuff comes in half liter glass (!) bottles with a pry-off cap, and it says "sugar" on the label. One bottle costs $1.69 and it's worth every penny of that. I might have to fake an upset stomach here pretty soon.