06/13/2011
I got my wallet back!
On March 19th, 2010, my wallet was stolen out of my purse out of my desk drawer at work: http://karin-sadventures.blogspirit.com/archive/2010/03/i...
The banks reversed all unauthorized charges, and I didn't really miss those $20 and change that I carried, but the loss of that wallet hurt. It was a souvenir from Munich, bought only half a year before the incident. Real leather, made in Germany, very expensive and unusual colors. I tried to find one like it the last time we traveled to Munich - no such luck.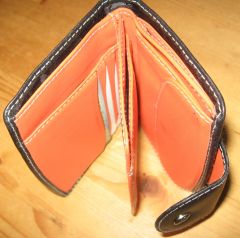 Today, almost 15 months later, I got that wallet back!
Somebody had to go check on some data cables above the ceiling tiles in the men's restroom. And there it was - my wallet had been hidden less than 50 feet away from where I sit.
Call it coincidence, call it luck, call it a miracle,
I call it:
'automatic justice'.