04/07/2011
'Expert' Solution designed by Ford
Our 2000 Ford Windstar van was one of roughly half a million vehicles recalled with rusted out, ready to fall apart, rear and front axles. The rear end wasn't that bad on ours, but the front was dangerously rotten. Which is why we had been driving a rental car for over six weeks now.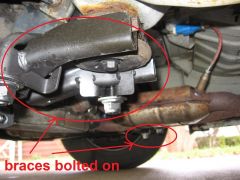 Today I got a call from the repair shop. They finally got the necessary parts in, fixed our van, and wanted us to come by and pick it up. When I looked under the vehicle, curious to see what they had put in there, I almost laughed out loud.
No, they did not replace the rusted pieces of metal that connect the wheels to the sub-frame! They just bolted some funny looking braces onto them. Hilarious! I will never buy a Ford again.