06/17/2015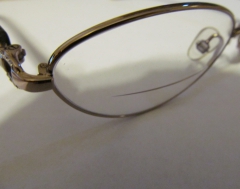 While I can still get by everywhere without glasses, it is increasingly tiring to stare at my computer screen for hours. So I thought some midrange bifocals would be advisable.
Costco has an eye specialist on site, and after you get your prescription, you can order your glasses right there. Very convenient.
The optometrist recommended those "no-line progressive" lenses that seem to be the in-thing to have. I didn't know any better, so I agreed to that.
My goodness! Let me tell you this: you want lines on your bifocals. After just briefly trying the progressive lenses I really wonder how anybody would prefer those.
Your area of useful correction is about pea-sized. Everything outside the immediate center of the lense doesn't help you see; it turns the world into a wobbly, distorted blur. So, to be able to work, you need to learn to keep your eyes straight at all times, and move your entire head to look at stuff. No way!
I paid an extra $20 to have the lenses switched for some good old-fashioned bifocals, with lines. Much better!
12/15/2014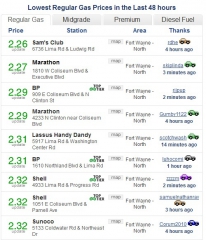 The price for a gallon of regular has fallen below $2.30 where I live.

That is about $1 less per gallon than this time last year, almost $2 less than the highest prices I remember seeing. The last time gas was this cheap was approximately five years ago.
I realize that this may be temporary relief, and stocks are falling because of it - but it means we save roughly $100 per month without changing anything, and I don't own stocks.
Life is good!
10/13/2014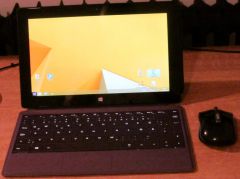 For two weeks now I've been playing with this new toy I bought. It's a tablet/PC equipped with Windows 8.1. You can detach the keyboard and use it as a touchscreen tablet, or snap the keyboard back on and pretend it's a laptop. As an added bonus mine has a German keyboard layout.
I admit I'm starting to like it! Despite the fact that Microsoft has taken a few discomforting steps in the wrong direction with it, in my opinion.
In general, Windows 8.1 hides many features, that would give the user more in-depth control, in an obvious attempt to make the device more "idiot-proof". Good thing Google is still my friend, and knows everything.
Today I found out what my product-id and my OEM key are, just in case I would have to start from scratch with my device. Those keys used to be on the sticker right on your computer - now hidden in BIOS, not intended for you to know. I suppose that is meant to create some business for GeekSquad and such.
I also found out how to make an ISO system image copy, just for peace of mind. That used to be right where you'd look for it, under "Backup and Restore" in the control panel on Windows 7 Professional. Now they buried it on the lower left hand corner of the "File History" page, but it doesn't appear right away? You have to wait for about 3 seconds for it to even show up.
What happened to business ethics?
Anyways, Microsoft, if you want to be sneaky, I can still be sneakier!
06/15/2014
OK, I realize that most riders around here don't even own a helmet. It's "uncool", especially on a Harley. I always wear a helmet when I ride; I don't worry about looking "cool". Until now, any old helmet would do for me. It needs to fit, of course, and cover my face completely. It also needed to be reasonably priced.
My helmet served me well, with only one minor complaint: at speeds over about 50mph I had to put up with a lot of vibration inside, making my glasses dance on my nose, causing blurry vision. So I had been toying around the idea of a Schuberth C3. Made in Germany, excellent reviews, integrated Bluetooth communication system, but one huge problem: it costs around $1,000 new.
Watching ebay, I realized there are not many of those available either. People, who have one, probably like it so much they won't sell. Last Sunday I got really lucky, though! I won an auction for this white Schuberth C3 with SRC system already installed, used for only 500 miles, selling because of "sizing issues". It's mine for only $426, including shipping.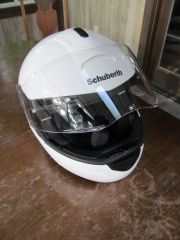 When I first tried it on, I experienced serious buyer's remorse.
It is heavy. It takes some fiddling to put on and take off. The chin-strap has some hard parts to it, which dig into the front of your neck, because the soft cushion doesn't stay in place. Sizing doesn't follow their own charts, really. People recommend you buy one size up from what you normally wear. So I got an XL, because I normally wear size L. Schuberth's XL seems just a tad too big for me, though - oh boy, what have I done...
My first impulse was to turn around and list it back on ebay.
Now I'm really glad I didn't follow that impulse! All those little problems have very easy fixes. I replaced the C3 size XL crown lining with a S2 size XL crown lining, which has the same shape and buttons, but is a bit thicker, making for a perfect, snug but comfortable, fit. The chin-strap cushion will stay put now that I sewed some velcro onto it. Putting the helmet on and removing it simply takes practice, and the weight really just takes getting used to.
My perseverance is being rewarded with the experience of a world class helmet, quiet interior, no fog, a retractable sun visor, crystal clear sound system, excellent ventilation - and hardly any vibration.
I'm hooked.
05/14/2014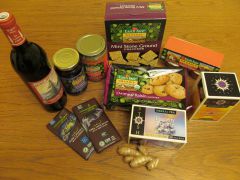 Last week a new grocery store opened in my neighborhood.
Earth Fare promises natural and organic food and supplements with the slogan "real food for real people".
No hydrogenated oil, no high-fructose corn syrup, no artificial sweeteners. Sounds good. Today we went to take a look. The store is bigger than the Health Food Shoppe on Anthony Boulevard, but smaller than the Fresh Market.
They really carry a good selection of natural and organic food, cosmetics, and other items. Some of those are also available at regular stores, like Meijer or Costco, but certain items I have never been able to find anywhere. Like red wine without sulfites.
I wouldn't recommend doing your everyday grocery shopping at Earth Fare, though. The prices are hefty, like I had expected after talking to people who had been there when the store opened. Judging by those items that I've seen elsewhere Earth Fare equals Meijer times two, or Costco times three.