10/20/2015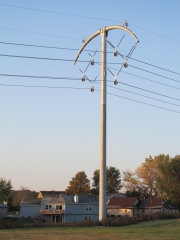 Lately I have been driving by some impressive new structures in town. AEP is replacing many older transmission line pylons with these new ones.
They have a smaller footprint on the ground and are (hopefully) less susceptible to storm damage. One question remains, though: why do they still have to be up in the air?
Underground HVDC transmission lines have been around for some time and seem to have advantages. Maybe that's why Bavaria recently passed a law mandating underground installation for all new transmission lines.
06/25/2015
Three times a year I order my free annual credit report from one of the three credit bureaus. It used to be quick, painless, and easy to do online - until two years ago. All of a sudden Equifax and Experian would not let me request my report over the web anymore. When I finally received the report from Equifax, ordering over the phone, I realized why: there was a change in my address.
Somehow an "Apt. 119" had been appended to my home address, which is a single family home, by the way.
That's when a frustrating journey began. I called Equifax to tell them about the error and have it corrected. You'd think that should be easy. It is not. It is actually impossible. They kept telling me they could not correct my address because it was being reported like that by one of my creditors. They would not tell me which one.
Experian just listed "Apt. 119" as one of three addresses somehow "related" to me, but didn't use it as my primary address. Calling them was just as frustrating, though - different reason given: we can't remove or correct any of the addresses associated to you, unless it is your primary address that is incorrect. They also informed me that the address was being reported like that by a creditor, and I needed to talk to the creditor. They would also not tell me which creditor.
A major break-through occurred this year, finally! I had ordered my annual free report from Experian again, over the phone, of course. It arrived today. On it I noticed the "Apt. 119" address came with an "address identification number". The same "address identification number" appeared under the section with our mortgage account. The mortgage that we refinanced two years ago. Apparently the bank had been reporting the address with "Apt. 119" ever since. Don't ask me why.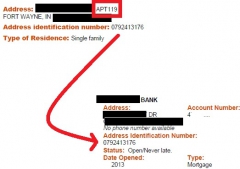 Logging in to the online user interface for that bank account, going to their "service center", and fixing that address was easy.
Hopefully, just another two years from now, I will be able to order my Experian and Equifax annual credit reports online again.
06/17/2015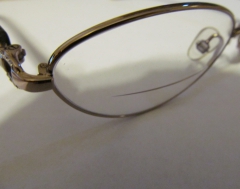 While I can still get by everywhere without glasses, it is increasingly tiring to stare at my computer screen for hours. So I thought some midrange bifocals would be advisable.
Costco has an eye specialist on site, and after you get your prescription, you can order your glasses right there. Very convenient.
The optometrist recommended those "no-line progressive" lenses that seem to be the in-thing to have. I didn't know any better, so I agreed to that.
My goodness! Let me tell you this: you want lines on your bifocals. After just briefly trying the progressive lenses I really wonder how anybody would prefer those.
Your area of useful correction is about pea-sized. Everything outside the immediate center of the lense doesn't help you see; it turns the world into a wobbly, distorted blur. So, to be able to work, you need to learn to keep your eyes straight at all times, and move your entire head to look at stuff. No way!
I paid an extra $20 to have the lenses switched for some good old-fashioned bifocals, with lines. Much better!
12/15/2014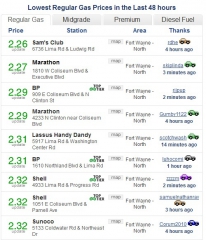 The price for a gallon of regular has fallen below $2.30 where I live.

That is about $1 less per gallon than this time last year, almost $2 less than the highest prices I remember seeing. The last time gas was this cheap was approximately five years ago.
I realize that this may be temporary relief, and stocks are falling because of it - but it means we save roughly $100 per month without changing anything, and I don't own stocks.
Life is good!
10/13/2014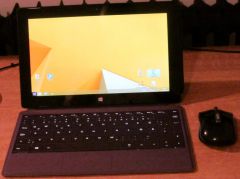 For two weeks now I've been playing with this new toy I bought. It's a tablet/PC equipped with Windows 8.1. You can detach the keyboard and use it as a touchscreen tablet, or snap the keyboard back on and pretend it's a laptop. As an added bonus mine has a German keyboard layout.
I admit I'm starting to like it! Despite the fact that Microsoft has taken a few discomforting steps in the wrong direction with it, in my opinion.
In general, Windows 8.1 hides many features, that would give the user more in-depth control, in an obvious attempt to make the device more "idiot-proof". Good thing Google is still my friend, and knows everything.
Today I found out what my product-id and my OEM key are, just in case I would have to start from scratch with my device. Those keys used to be on the sticker right on your computer - now hidden in BIOS, not intended for you to know. I suppose that is meant to create some business for GeekSquad and such.
I also found out how to make an ISO system image copy, just for peace of mind. That used to be right where you'd look for it, under "Backup and Restore" in the control panel on Windows 7 Professional. Now they buried it on the lower left hand corner of the "File History" page, but it doesn't appear right away? You have to wait for about 3 seconds for it to even show up.
What happened to business ethics?
Anyways, Microsoft, if you want to be sneaky, I can still be sneakier!