06/07/2016
I invented the awesome ExxoPok phone pouch - and I (try to) sell it on Etsy and Ebay. Not bad, for a start. It's like having a stand at the flea-market, though. Your shop isn't really yours, and the marketplace wants to make money off of you by charging various fees. Listing fees, transaction fees, monthly fees, service fees.........
So I started looking for ways to diversify, maybe add a web-shop to my own little old home page? Or sell ExxoPoks on Facebook? There are so many different ways to do that, I started to get confused. Shopify, Volusion, BigCartel, SquareSpace, 3dCart, LemonStand, BigCommerce, AmeriCommerce......... all fine products having several flaws in common.
They all cost monthly fees (after some initial trial period), ranging anywhere from $8 to $299 a month, depending on the level of flexibility you buy. Also, once you decide what e-commerce platform to use, you are pretty much "stuck" with them. Migrating to a different platform is complicated, or next to impossible, for most of these.
After weeks of digging I finally found a little gem called "Ecwid". It took me a few hours on the weekend to get this figured out, setting up a subdomain, adding a free template to it, customizing that and integrating Ecwid's shop plugin - looks great!
Then I realized you can simply add that plugin to a Facebook page too. For up to 10 items the whole platform is completely free to use, forever. Which means, if I make a sale through Ecwid, all I'd have to pay would be Paypal's transaction fees.
I even figured out how to embed a single product widget right here, in my old blog!
12/26/2015
Now that two of the three phones on our family plan were out of contract, and the "early termination fee" for the third line was about as much as one month's payment for the entire plan, we gave them one last call to cancel the whole thing.
Google's Project fi helps cut our cost in half. They charge only for the data that we actually use - at $.10 per KByte. No international roaming charges either; unlimited texting worldwide, unlimited phone-calls in the US; $.01 per minute for international calls; no charges ever for incoming calls worldwide; no contract to be stuck with; one easy simple bill to check right there, on your phone.
Too bad fi didn't come earlier - ten years' worth of unused data lost to Verizon could have added up to $10,000 more in our pockets instead.
12/15/2015
Normally I don't trust banks. I have a quite negative opinion about them. I use banks because I have to, not because I want to. Today, though, I was pleasantly surprised about how one bank did business with me.
Here's what happened:
at 7:28 a.m. I received a text message to my cell phone, and an email, alerting me of an international transaction on one of my credit cards. The message stated the transaction amount of $0.51 and the name of a person I did not recognize.


at 7:30 a.m. I called the number on the back of my card and talked to somebody with a heavy Indian accent. I immediately thought, this was going to go South now - my English isn't good enough for Indian call center people.


at 7:33 a.m. the Indian call center person transferred me to the bank's US Fraud Department. There I got to talk to someone speaking perfect American. She asked me a few questions to confirm my identity. Then she explained that my card had obviously been compromised, the fraudulent transaction would be reversed, and I would be issued a new card free of charge. My new card should arrive in the mail within a week, and that I may now destroy the old card which would be invalidated effective immediately.


at 7:41 a.m. I hung up, thinking to myself "wow! that was quick."
What do we learn from that? Not all banks are evil. If your bank or credit card company gives you the option of setting up account activity alerts, use them! If your bank doesn't offer that level of service, demand that they do!
12/08/2015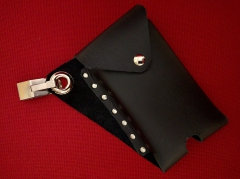 I know my design idea for the ExxoPok is ingenious. I know the "angle of dangle" solves the main problem that people have with today's big smart-phones. I also heard "hey, you should market that!" from a few people. I was thinking about it.
Still, thinking about something is different from actually doing it.
So when I finally set up my shop on Etsy early in November, I thought nothing would come out of that, probably. There are millions of products on Etsy. Thousands of cell-phone pouches to chose from, hundreds of them looking way more "polished" than mine.
Nevertheless - today it really happened! A lady in New York City ordered a black, left-handed ExxoPok for her LG G4 phone. I was so excited, I had to make that pouch right away. It will ship tomorrow.
11/24/2015
I don't trust "big business", usually - and I don't "advertize" other people's stuff, usually - but this one is different. Having a smart phone with a data plan in the USA is expensive, comes with unfair pricing, non-existent customer service, and outrageous roaming charges - usually.
Until you discover Google's Project Fi. Unlimited calls and text in the US for $20 a month, plus $10 per GB of data, plus tax & fees. No roaming charges, incoming calls are free worldwide, and (here's my favorite part) you get a credit (real money back, not some hogwash "roll-over") for unused data on your next month's bill. The price for data is the same $10 per GB worldwide, and should you use more data than anticipated, there are no extra "overage" charges.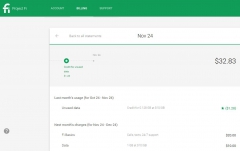 Sounds good, but where's the catch? Two little caveats, maybe:
currently you still have to "apply" for an invitation and then wait for about six weeks before they'll let you sign up.
Also, there are still only three phones that will work with Fi - Nexus 5X, Nexus 6, and Nexus 6P.
I can live with that!