05/14/2014
Earth Fare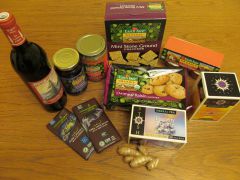 Last week a new grocery store opened in my neighborhood.
Earth Fare promises natural and organic food and supplements with the slogan "real food for real people".
No hydrogenated oil, no high-fructose corn syrup, no artificial sweeteners. Sounds good. Today we went to take a look. The store is bigger than the Health Food Shoppe on Anthony Boulevard, but smaller than the Fresh Market.
They really carry a good selection of natural and organic food, cosmetics, and other items. Some of those are also available at regular stores, like Meijer or Costco, but certain items I have never been able to find anywhere. Like red wine without sulfites.
I wouldn't recommend doing your everyday grocery shopping at Earth Fare, though. The prices are hefty, like I had expected after talking to people who had been there when the store opened. Judging by those items that I've seen elsewhere Earth Fare equals Meijer times two, or Costco times three.