09/22/2012
Time for the annual Pilgrimage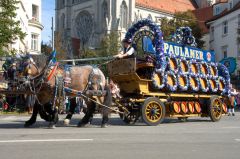 I won't make it in time to watch the parade, but that's OK - I've seen it over 30 times already. There will be plenty of opportunities for me to participate in the world's biggest party, hosted by the world's most beautiful big city, once I get there on Sunday.
You may wonder why somebody (like me) who went to München's Oktoberfest every year for the past half a century doesn't get bored with it. It's easy to explain:
where else can you make about 7,000 new best friends within a couple of hours?