07/18/2010
Now that's smart! (on their part)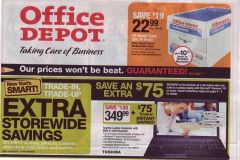 The Sunday newspaper is always stuffed with ads and special deals and coupons. Some of these inserts are really good deals, some are just not interesting, and once in a while you'll find something that makes you wonder. Like this 'deal' Office Depot currently wants us to take. It makes me wonder, how many people will fall for it.

They offer to give you $75 for your 'old' laptop, when you trade it in for a new one. Read the fine print really carefully though, and then better sell your 'old' laptop on ebay for way more than those $75. I'd say you'll get at least $150 for any machine that would fit Office Depot's requirements, which they state as follows:
Laptop must boot up and be in working condition, have Microsoft XP or newer, operating system as specified by the operating system/COA sticker, have a working battery and complete power cord, and must not have cracks or missing/broken parts.

If I had an 'old' laptop in that good of a shape, why would I want to trade that in? And if I did, why would I do so for a rinky-dink $75 ??