01/29/2010
Gain from a Lost Week
From the 'work' point of view this week was pretty much lost. Two unrelated incidents resulted in greatly reduced productivity for me personally, and for the team as a whole: on Monday my computer's harddrive crashed, and an important colleague didn't show up for work.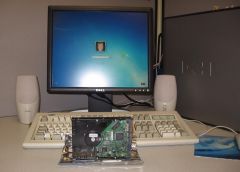 The way those two incidents unfolded, and were dealt with, over the course of five work days resulted in valuable gain, though.
I learned a lot about Windows 7, and I learned a lot about people.
When our comfortable routine gets disrupted by unexpected events, we forget about the carefully orchestrated masquerade that we keep up to protect our true self. People's unkempt faces show, and you recognize the leaders, the followers, the bystanders, and the saboteurs.
Of course, all that matters is the end result: I now have Windows 7 running on my computer, with most of my tools working again, and our colleague will hopefully be back to work on Monday.