05/15/2015
I buy lots of things online. Amazon, ebay, websites all over the world...... because it's convenient, and sometimes the only way to get what I want.
On April 30th I ordered a small piece of hardware for my accordion from a shop in Germany. They notified me of the item being shipped on May 5th.
On May 9th I ordered a box of Haribo "Color-Rado" of Amazon, unaware of the fact that the seller, a "German-Store US", was going to send the item directly from Germany. Amazon notified me of the item being shipped on May 11th - along with two other items I had ordered on Amazon's website that same day.
When I found a FedEx tag on my door on Wednesday, May 13th, I was pretty sure that would be my accordion hardware. I signed the sticker and placed it back on the door to authorize FedEx to just leave it there the next day.
Thursday, May 14th, I came home and found three packages at my doorstep. All the items I had ordered on May 9th from Amazon arrived at the same day, via three different carriers from three different vendors. My accordion hardware was nowhere to be found.
Since the expected accordion hardware was missing, I opened a case with FedEx to investigate, maybe get a refund. They were going to follow up with me today.
That won't be necessary, though. We needed a small box and went through the recycle bin in the morning. The box that my Haribo candy came in was the right size - and it still had the packing slip on it..... shipped via FedEx, directly from Germany, the door-tag number matched.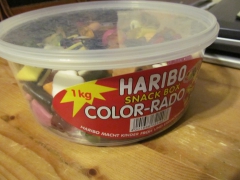 Now that was lightning-fast shipping! From Germany to my door within three days!? Signature required for a box of candy?!
Hopefully my accordion hardware will be in that envelop I'm supposed to go pick up at the post office today.