05/14/2014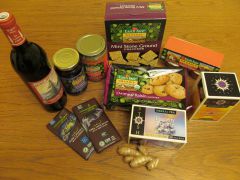 Last week a new grocery store opened in my neighborhood.
Earth Fare promises natural and organic food and supplements with the slogan "real food for real people".
No hydrogenated oil, no high-fructose corn syrup, no artificial sweeteners. Sounds good. Today we went to take a look. The store is bigger than the Health Food Shoppe on Anthony Boulevard, but smaller than the Fresh Market.
They really carry a good selection of natural and organic food, cosmetics, and other items. Some of those are also available at regular stores, like Meijer or Costco, but certain items I have never been able to find anywhere. Like red wine without sulfites.
I wouldn't recommend doing your everyday grocery shopping at Earth Fare, though. The prices are hefty, like I had expected after talking to people who had been there when the store opened. Judging by those items that I've seen elsewhere Earth Fare equals Meijer times two, or Costco times three.
05/05/2014
Tomorrow I will have a chance to vote again. It's just primary elections, but still - I'll go vote. Primaries may seem a bit confusing, because you don't really vote anybody into any office - yet. You just help one party to decide whom they will put up for their candidate(s) in the next general elections, November 4th this year.
The technicalities of primary elections vary slightly from one state to another.
According to Ind. Code §§ 3-10- 1-6, 1-9, Indiana holds so called "open primaries". That means voters do not have to declare a party affiliation upon registration. You may choose to vote on either party's ballot during primaries. You have to choose one single ballot for one distinct party, though.
Some other states have what is called "closed primaries". In those states you must declare yourself as affiliated with a specific party when you register to vote, and then consequently can only vote for that party in the primaries.
Whether your state holds open or closed primaries, and whether or not you participate, or what party's ballot you vote on, has no bearing on the next general elections. On general elections' ballots you will get to see all candidates, from all parties, who were pre-selected during primary elections.
Maybe that's why participation in primaries is usually low.