04/30/2013
I'm allergic to all kinds of airborne pollutants. Tree pollen, grass pollen, mold, dust mites, perfumes, chemicals.... which means that I spend about an hour of every day sneezing, coughing, or scratching my itchy eyes for no aparant reason.
Not a big deal, I'm used to that. I don't bother doing much against it either. Except this once. I thought, if we maybe change the cabin air filter in our van, I might cough a little less while I'm driving. The van is a 2000 Ford Windstar. It still had the original factory installed cabin air filter in there. The full 12 years' worth of grimy dust, dead bugs, and other gross things.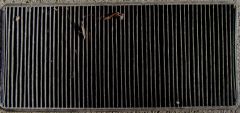 04/19/2013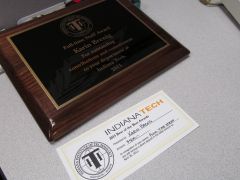 I consider myself lucky to have a job, even more lucky to have a job that is fun, and extremely lucky to work at an institution where hard work is being officially recognized and rewarded.
Yes, we do get paid - so maybe we shouldn't even expect something else - but it sure feels nice to get more than just the paycheck.
At our annual Employee Awards ceremony over a dozen individuals receive special recognition, documented with a nice plaque and sweetened up with a tax-free bonus check, for outstanding contributions to their teams' and the institution's success.
This year I was among those honored.
04/03/2013
The annual championship in a popular sport is closing in on its finish, deadline being April 15th, as usual.
The promoters of this fine race make sure that the requirements for the millions of participants are a little more challenging every year, just to keep up with the ever growing demand for sophisticated organization.
It takes years of practice and coaching for even the most talented players to get to the point where they can attempt to cross the finish line on their own, without a professional trainer guiding them.
This year I am proud to report that we reached the pinnacle! In my 8th year of participation, we were able to come up with 20 pages worth of federal, and 8 pages worth of state tax returns. We only needed 35 worksheets, and just short of 5 hours to complete the obstacle course. I admit we used the help of a computer program, but that still seems to be legal. After the final counts were in, we realized that the damage was much less than anticipated, and there were no penalties!