03/01/2013
Crunchy, spicy, juicy, fat-free..... pickles are on my list of favorite snacks. Until just a few days ago I also thought pickles were a healthy snack. Then I read the ingredients list on a pickle jar. Among a collection of chemicals there was yellow 5, a substance that I had recently read horrible things about.
I don't want to eat that stuff, if I can avoid it. So I went through the entire selection of pickles in the store to find a brand that doesn't have yellow 5 in it. I found that in the German section, at a price of around $5 per jar. That's too expensive.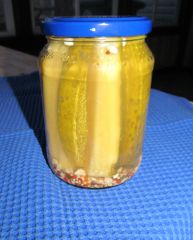 What do you do if you can't buy something? There are always two options: learn to do without, or learn to make your own.
In the case of pickles, making your own is really easy, fun, and inexpensive. I'll make sure I always keep a jar of pickles handy, just in case you'd stop by and want to taste natural, healthy pickles.