07/28/2012
When I started teaching myself how to yodel, using a CD by Kerry Christensen "U 2 can yodel", I never thought that I would ever meet Kerry in person, much less sing a duet with him - but here we are, doing just that at the Swiss Days in Berne where Kerry performed and I was watching.

We had not practiced anything in preparation, and had talked about not doing anything spontaneous right before the show, but then some people in the audience insisted I go up there and be heard.
07/26/2012
It seems like not too long ago that I had to play that exact same game - appealing our annual property assessment.
I personally believe that my primary residence should not be taxed at all, because I already paid taxes twice on that money. First, when I earn the money, I pay my income tax. Then, when I buy a house with the money, I pay sales tax.
Bottom line: nobody ever owns their property - we just rent it from the State.
In Indiana we thought we got a break of sorts when we voted a tax cap of 1% for residential property into our constitution, but soon after that we noticed that our government came up with a new creative way of raising tax revenues.
If the percentage can't go above 1%, they need to raise the value of our properties.
That's exactly what our assessor has been trying to do for the past two years! In-midst of a sluggish economy, continuously decreasing real estate sales prices, and an average inflation rate just under 3%, the value of our old house in an old neighborhood has supposedly, miraculously, increased by 7.22% over the past twelve months.
So, here we go again - tax appeal. This time, though, I didn't have to think long about how to do it. I just repeated the same procedure as last year: going through the tax assessor's own database of property report cards I found several houses, comparable to ours, in our immediate neighborhood that had been sold within the past twelve month for a fair, realistic price - considerably lower than what our assessment said.
Our appeal was successful! The new value of our property is now only 1.12% higher than last year's.
I find it strange, though, that nobody else seems to appeal their property assessments. Do other people simply grumble, complain, and then just pay whatever? Tell me, do you appeal - and if you do, how do you go about it?
07/25/2012
Our first apple tree didn't live very long. About a year after we had planted it our dog ran across the yard, in pursuit of a rabbit, tripped over the ropes we had attached to the tree to keep it growing straight, and broke the thin stem off right above the point where the tree had been inoculated.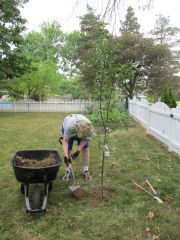 This year the timing was perfect to try again!
Trees were on sale at Menards. We went and bought two Zestar apple trees and Tom planted them in the backyard, carefully picking the location, considering where our dog would not run.
These trees will be allowed to grow crooked, if they like.
07/20/2012
My New Year's resolution for 2012 was to get my weight under control again. Life in the USA seemed to cause weight-gain almost automatically. At a BMI of 26 I wasn't really that much overweight, but I found it scary how the scales just kept on going up and up and up, ever so slowly.

It took me some time and research to design a plan that works for me. Whatever I do has to be simple, inexpensive, logical, and comfortable enough for me to be able to keep it up forever. I don't want to have to count calories, eat special and expensive "diet-food", take any "miracle pills", or put myself through strenuous exercise.
The changes in my "routine" are minimal, there are very few "rules" - and I am sure that I can keep this life-style up for the rest of my life. Today my BMI is within the normal range, at 24.45, halfway down to where I want it to be at 22.5
Curious about my "tricks"? It's really easy!
Eat a big breakfast

Wait 5-6 hour after a meal before eating anything else

Stop eating 3 hours before going to bed

Sleep 8 hours every night

Walk for 30 minutes every day

cut back on sugar and salt

never eat anything that contains corn syrup, hydrogenated oil, MSG or yeast extract, or any artificial sweetener (not even Stevia)